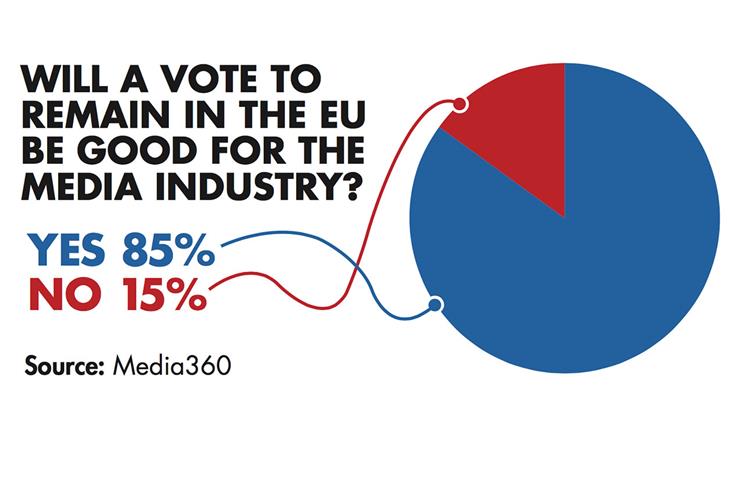 But Vote Leave said the prime minister was wrong to claim that EU membership was "good for British brands and for Brand Britain" because the UK would thrive outside the trading bloc.
Opinion polls this week showed Remain's lead over Brexit has narrowed sharply with only two weeks until the referendum on 23 June.
The majority of UK and multinational brands and advertising groups are thought to be in favour of remaining in the EU. A survey at Media360 last month found 85% of delegates believe a "remain" vote will be good for the media industry.
Michael Gove, MP
Vote Leave
"Those of us who want to leave believe Britain's best days lie ahead, that our country has tremendous potential that independence would unleash, and our institutions, values and people would make an even more positive difference to the world if we're unshackled from the past.
"The EU, after years of trying, still doesn't have trade deals with the US, China or India. But if we vote to leave, we can take control of our trade negotiations and seal those deals more quickly.
"There is a free trade zone stretching from Iceland to Turkey that all European nations have access to, regardless of whether they are in or out of the euro or EU. After we vote to leave, we will stay in this zone. For Britain, voting to leave will be a galvanising, liberating, empowering moment of patriotic renewal."
Sir Martin Sorrell
Chief executive, WPP
"The prime minister is correct to highlight the importance of EU membership and access to the single market both to our clients and the advertising and marketing services business in general. A vote to leave would be the equivalent of jumping into a black hole with unknown consequences, both political and economic.
"At WPP, over the past five years, we have increased the number of people we employ in the UK by about a third to nearly 17,000. Why would we put such a growth story at risk, let alone reduce our influence in four western European markets – Germany, France, Italy and Spain – which are all top-ten markets?"
Maurice Lévy
Chairman and chief executive, Publicis Groupe
"We can't but regret the Brexit referendum, which, like all referendums, will inescapably be manipulated. Yet there is still time for the UK to confirm its alliance with the EU. British people are not asked to give up their culture, their habits or way of life – quite the opposite. It is about firming up their vision, their commitment and their historical mark on the EU.
"I could hardly imagine a UK withdrawn and stunted on its island. Those who believe that this vote will come without cost shouldn't be mistaken. Europeans will reluctantly accept such a departure and many will ask for the British to be deprived of EU benefits – fluid mobility when it comes to financial services, HQs of global firms, ease of access to the common market. Stay with us – we are family."
Jerry Buhlmann
Chief executive, Dentsu Aegis Network
"We would be trading our substantial ability to influence for a small amount of sovereignty if we were to come out. I also believe there is still a great opportunity for us in the EU. The single market is effective in regard to manufacturing but it still needs to be developed in terms of services.
"A lot of challenges that are cited as reasons that we should leave don't disappear if we leave. Leaving doesn't solve the world's migration problem. It just means it's less coherent in terms of the response. The EU is the largest trading bloc. We are the second-largest and fastest-growing economy and, in due course, the largest economy in Europe at our rates of growth. So why wouldn't you want to be the largest market in the largest trading bloc in the world?"
Tim Martin
Chairman, JD Wetherspoon
"A lot of businesses understand the case to leave because, if you look around the world, the most successful economies are those with the greatest amount of democracy. Cameron's argument puts the cart in front of the horse. The truth is democracy and success produce trade agreements. He puts it the other way round and says trade agreements produce success.
"You can see from Greece, Portugal and Spain that the EU hasn't produced economic success and that's because of an increasing lack of democracy. If people understand that, there's only one answer – to leave."
Peter Duffy
Group commercial director, customer, product & marketing; easyJet
EasyJet supports the UK's membership of the EU, which allows the UK to benefit from the open markets in Europe.

EasyJet is a child of the European Union and it has enabled easyJet and other airlines to offer lower fares to more places than before.

The EU has created an environment which gave birth to "Generation easyJet". This generation is not defined by nationality, age or class but by a shared attitude to living, working and playing across Europe.

We are proud of easyJet's role in connecting people and business across Europe and believe that the UK is better off as part of the EU."
Kenny Jacobs
Chief marketing officer, Ryanair
As the UK's largest airline, we are absolutely clear that the UK economy and its future growth prospects are stronger as a member of the European Union than they are outside of the EU. A Remain vote will lead to more job creation, stronger economic growth, more foreign direct investment – and more importantly, even more low fares. We agree the EU needs reform, but we need the UK to remain in the EU to drive this change. We urge all British citizens to vote Remain on 23rd June and remind them that today is the deadline for registering to vote.
James Murphy
Chief executive, Adam & Eve/DDB
Our industry leads the creative economy in terms of export success. UK agencies are the best in Europe and it's encouraging that the prime minister's piece acknowledges that success and points to the threats of leaving.