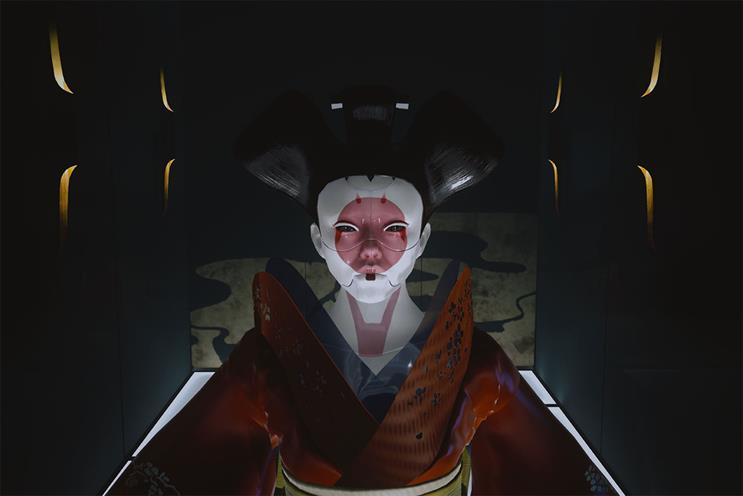 How did you start your career?
I started in stop motion animation and worked on Fantastic Mr Fox as an assistant director and then Frankenweenie in the story-editing department. Then I got into commercials and made about 150 animatics for over 50 commercials as director and editor, such as the Beck's goldfish [for a 2013 Super Bowl ad].
I met Sol Rogers [the founder and chief executive] at Rewind, got chatting to them and heard about what they were doing. I moved there as a trial to see if my skills were transferrable, and I've been with them for about two-and-a-half years now.
How did you transition from traditional media to VR?
The first time I put on a headset was at Rewind. I knew VR was going on and becoming a big thing but I had zero professional experience in it.
I had tried to make a 360-degree horror film for my graduation film at university but the cost at the time was impossible. Now I know that what I was trying to do then was pretty close to the early steps of what Rewind was creating.
What new skills did you have to learn?
I had no official training – it was a combination of trial by fire and practice. My first weekend on the job I went out and did a 360 shoot to get the hang of it. A lot of what I shot that weekend was absolutely terrible, like going back to your first film when you don't know what you're doing.
The things that work in 360 and VR are different. I had to relearn the shooting and editing process from the ground up. With traditional narrative, you have a history of 100-plus years of editing and framing – a visual language you can lean into. With 360, you don't have the same options. You need to guide the viewer through movements, sound and action in scenes much more like you would in theatre. The old toolkit of things to fall back on is gone.
VR is similar but also different. You're putting someone at the centre of an experience and they have some control over it, so things need to happen similar to video games with levels. It's more someone sitting in a story – what we call story living – so techniques like fast cuts will throw them off from being immersed in that world.
What has changed in VR since you've started?
Rewind has always done VR, but what has changed is the interest and budgets available. 2017 has been focused on more VR projects [rather than 360 video] because brands are more interested in it.
The phrase "world's first" was used a lot over the past year with VR, but now everyone kind of thinks you're being ridiculous if you say that. It shouldn't be about doing the "world's first" but about using VR in an effective way.
What are the limitations and challenges to working in VR?
There are so many limits in what we can do, the biggest being that the scope of what we're trying to make isn't always possible while maintaining the frame rate and the latency we need to make sure people don't feel unwell. There's a constant trade-off between the visual quality and what you can do, and having it run well and not make people feel sick.
We will always be working in limited boundaries but that's part of the fun and the challenge. As the tech advances, hopefully the storytelling and uniqueness remain timeless enough.
VR is sometimes an isolating experience but it doesn't have to be – it depends on the build and the design. You can make a solo experience or you can make it feel like a group experience by having more headsets, a synchronised start, or a host of other solutions. The Jaguar project had 66 people in the same experience who could see each other and interact.
You can also encourage people to talk about the experience outside of it. Think about when you go to the cinema – you sit in a dark room with other people and wait until afterwards to chat about it. VR doesn't necessarily start and end when you put a headset on. You have to consider the entire journey – what happens when someone is waiting for a go with the experience, then the experience itself, and then what happens after.

For Welsh National Opera, Rewind took two classic operas – Madam Butterfly and The Magic Flute – into VR.
What advice do you have for creatives wanting to move from traditional media to VR?
Experiment and see what's out there and what other people have made. Start making mistakes and learning with an open mind. See what you like but also what you don't like and how you would do it differently. There are hundreds of ways to solve a problem and maybe you can be that unique voice who will help solve something.
A lot of people we hire at Rewind don't have any VR experience before they join. It's not a big enough industry and pool, so we're picking people who we see with the right mindset, enthusiasm and ideas. If you're a traditional creative or filmmaker, you probably already have the core skills that you can transfer over to a company willing to teach you. No one should feel intimidated – it's nice to have a fresh set of eyes.
If you can tell a story, you can tell a story in VR. The basic principles of building a narrative structure and an emotional house that brings people on a journey should be applied to VR.