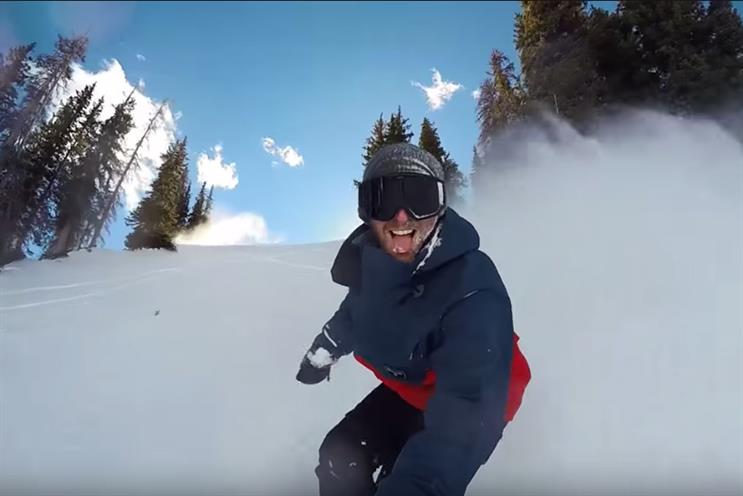 From an advertising standpoint, there are some big parallels between virtual reality and the early days of the World Wide Web. Both were new frontiers — and, at the beginning, no one really knew what to do with them.
With the Web, of course, it wasn't long before banner ads, video pre-rolls and pop-ups became common — and, as sites rushed to load as many ads on their page as they could, readers quickly revolted. Today, content creators and the advertising world are struggling against ad blockers, with a recent comScore/Sourcepoint study finding that high-value consumers are more likely to use them.
So as marketing companies begin nibbling around the edges of VR, advertising and marketing executives are hoping this is a new beginning — one where they can find a new way to connect with potential customers in a way that's less off-putting.
"If you look at digital advertising online, there's a kind of laziness," says Aaron Koblin, co-founder and CTO at Vrse VR. Virtual reality represents an opportuity for brands to measure impact as more than clicks or likes. "You need to look at the analog data from a virtual reality experience — people with huge smiles on their face when they take of the headset. It's about depth and breadth.
"The breadth side has really dominated, but there's an opportunity to have the kind of connection that you really want. Lot of brands need to reevaluate what they really want because there's an awareness [of their products] but not a connection. And VR has the ability to rebuild that."
Advertising executives agree. Because virtual reality technology is so new, and the user base so miniscule right now, the smart way to approach consumers is with a soft sell, creating content around the lifestyle the brand promotes. (Mountain Dew successfully did this last May with "Dew VR Snow," which allowed owners of Samsung's Gear VR headset to go on heli skiing in Utah with pro snowboarders Danny Davis, Scotty Lago and Jack Mitrani. Produced by creative agency Firstborn, it was the most-watched videos on Samsung's Gear VR for months.)
It's the mid-range and long-term where things get a little murkier. As the number of people with VR headsets grows, there will be a bigger push to reach them through marketing. And Joe Laszlo, vice president of industry initiatives at the Interactive Advertising Bureau (IAB), says he thinks some companies may default to familiar advertising styles.
"What I expect to see next is virtual reality pre-rolls, if you will," he says. For instance, "if you're going into a VR experience that's sponsored, there would be a pre-roll or perhaps something midway through. I think VR is going to be a bit more like video in terms of where the ad opportunities truly lie."
VR proponents warn that could have a tremendous negative impact on VR.
"If you're in an interactive experience, you don't want to stop and have a commercial break," says Anthony Batt, co-founder and executive vice president of WeVR. "The creators that have brands participate with them need to hold that line and say, 'In an immersive experience, it would be really toxic to have a brand interrupt.' "
Dario Raciti, director of Zero Code, the interactive entertainment division of OMD, agrees, saying advertisers who try to introduce current models to virtual reality (or ad agencies that push clients in that direction) could not only be endangering consumer goodwill, but the future of the technology itself.
"If that starts showing up in high profile experiences, I think there's going to be a lot of negative feedback," he says. "The danger here is not just negative feedback for a brand, but turning people off from VR in general. We need to grow this opportunity together and not try to make a quick buck."
The problem with VR advertising currently is it's impossible to gauge real results. Oculus' Rift and HTC's Vive just launched. The number of people who own Samsung's Gear VR is still miniscule in the scheme of things. And there's no real count on how many Google cardboard viewers have been given away — and how many of those are actually being used.
But the success of Mountain Dew's campaign on Gear VR shows there's a hunger for quality content, whether it's advertising or not.
"Right now, there are only a few really great experiences in VR," says Maureen Fan, CEO and co-founder of Baobab Studios. "So if you do have branded content, you get a disproportionate number of views of those people who have the headsets. You don't have to sift through the competition with all the other brands."
Virtual reality isn't likely to be ideally suited for every brand, either. if you're pitching a product like, say, toilet paper, VR is probably not the right place for your company to be. But if you're trying to sell, for instance, a luxury automobile, it can be integrated into VR in a number of ways, from product placement in a video to a custom VR campaign taking viewers on a virtual ride along a scenic route, where they can admire both the roadside view and the vehicle's interior.
"VR has the promise of offering what every advertiser has always wanted — your undivided attention," Koblin says. "With that comes great responsibility. It's a dangerous thing to not be able to look away from something."
Because we're still metaphorically lacing up our shoes for the marathon that virtual reality will become, there's a lot of experimentation going on among advertising companies — and no semblance of standards yet. But that's not necessarily a bad thing, as it gives ad agencies a chance to find what works.
And Raciti says he hopes that age of experimentation is a long one.
"As soon as we put standards in place, some creativity gets lost," he says. "At this stage, virtual reality needs to be about providing entertainment to consumers, and the brand can play an incredible role in that. Standards are going to come with the maturity of the market, but I don't think we're anywhere close to assigning standards for VR right now — and I hope we don't rush that."
Whenever those standards do start to emerge, ad agencies will have to pay much closer attention to consumers than they did with the Web. By ignoring possible resentment among VR headset users, advertisers could inadvertently open the door once again for a new type of ad-blocking technology.
Laszlo, though, says the industry has a chance to prevent that sort of thing this time around.
"I think there's some possibility of consumers actively speaking out against ads in virtual reality," he says. "We're in the very early stages of content. Hopefully, though, the content makers will be listening to that backlash before it evolves into a technological fix. I don't see it as an inevitability that people will deploy tech in their VR experiences to block ads."