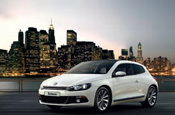 The mailing for sports coupe the Scirocco, which first hit dealers' forecourts in 1974, will be sent to 25,000 style-conscious consumers.
The packs, created by Proximity London, offer the chance to win a luxury break to Milan, including VIP tickets to the San Siro football stadium and a chauffeur-driven shopping trip.
Sarah Luckraft, communications manager for small cars at VW, said the campaign was intended to convey the Scirocco's combination of performance, design and detail.
The work expands on an above-the-line campaign created by DDB London.