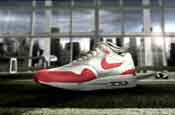 Nike's American football, outdoor and running creative accounts are under review, but the soccer, golf and basketball businesses are thought to be remaining with W&K.
The review is being led from the US, but is likely to include ads shown in the UK, particularly in the running and outdoor categories. Although W&K's London and Amsterdam offices are expected to be less affected than Portland, W&K's "Run London" is one part of the UK account that could be under threat.
A US spokesman for Nike, Dean Stoyer, confirmed that the sports company is in discussions with other agencies, but said no appointment had been made.
"As we grow the business, and brand communications evolve, we've got to look at some of the different possibilities available," Stoyer said. "We had a frank conversation with Wieden & Kennedy and are now looking at other agencies to add to our roster."
W&K has had the Nike business for 25 years, during which time it coined the "Just Do It" tagline. Nike revenues have grown from $3.5 million to $15 billion in that period, with Stoyer adding that a factor in the review was Nike's wish to increase that figure to around $23 billion by 2011.
The review is a major blow to W&K, which has been synonymous with Nike advertising for more than 20 years.
W&K refused to comment.