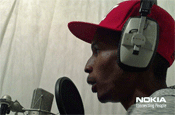 The Regent Street outlet will play host to an exhibition of photo portraits gathered from Londoners via the web.
The agency has led the Meeting London project, which show "portrait chains" by rapper Dizzee Rascal, actress Jaime Winstone, footballer Darren Bent and celebrity photographer Rankin.
Cliff Crosbie, Head of Retail Marketing, Nokia said: "This unique look into people's personal connection offers an insight into what London means for many of us. "
Selected photographs submitted by the public will be on display in the store from Friday.
The Meet London project can be found by clicking
here
.