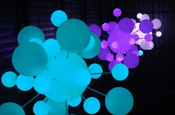 Nokia has sponsored the lights in advance of the opening of its flagship Regent Street store in January.

In a break with tradition, the lights will feature 14 interactive 3D light clusters each containing 24 spheres. The spheres will illuminate in different colours as people walk underneath them.

Each cluster is also responsive to weather, wind speed and time of day.

The lights will switched on in a parade at 6pm tonight and will run until the 6 January 2008.

Tony Davidson, the executive creative director of Wieden & Kennedy, said, "Being involved with a brand like Nokia, which is constantly pushing what is possible technically, enables us to show what we can do outside the traditional advertising mediums."

W&K enlisted the help of a number of specialists, including United Visual Artists, lighting designer P2 Group, Piggott's, The Crown Estate and The Regent Street Association.