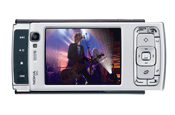 W&K will now take on all strategic and creative duties for the Nseries handsets, creating global ad campaigns that it will also adapt for the UK market.

The appointment will not affect JWT Worldwide's position on the account.

The agency will continue to adapt global campaigns in other markets excluding the UK.

W&K's appointment ends Lowe's relationship with the telecommunications giant.

Lowe was originally appointed to handle global advertising for the Nseries phones in 2005.

It had managed to keep a grip on the account following W&K's appointment to the £175 million global creative account for Nokia in July last year.

Carol Soriano, the vice-president of creative excellence at Nokia, said: "Nokia is about connecting people and the Nseries is about connecting people in the deepest way possible. W&K's pitch reflected and captured that in a unique way."