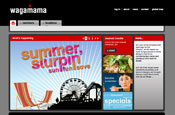 The geo-targeted ad campaign will target anyone preparing to visit an area near any of the company's 60 UK restaurants. A message will appear on the screen calling for people to "click here for noodles in this area". When the visitor clicks on the message, all Wagamama restaurants in the area will be revealed on the map and identified with a star. Clicking on the stars will bring up an address and telephone number of the branch and a link to the Wagamama website.

The campaign, which was booked by AdConnection, was produced by Magnitude, the same company that built the Wagamama website.

Hugh de Winton, part of the communications planning team at AdConnection, said that consumer engagement was becoming "more important and harder to achieve", but that the new campaign represented a "high level of innovation, is very accountable and is relevant to the end user".