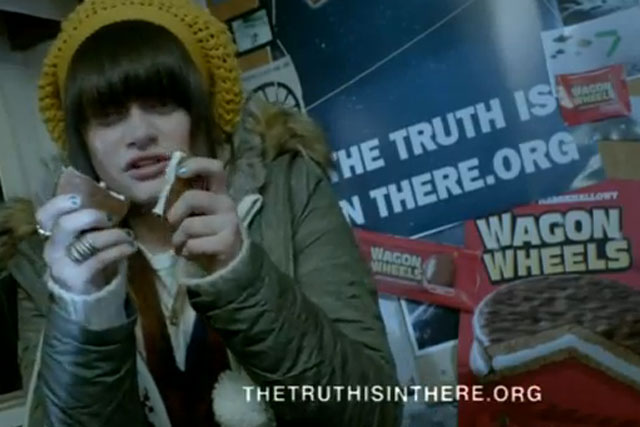 The online game, created by Interpublic's UM London, is part of a wider campaign, 'The Truth Is In There', by VCCP and stars three teenagers who believe their mission is to expose the alien conspiracy of what is inside Wagon Wheels.
Players will be asked to help Ben, one of the teenagers, to determine the origin of Wagon Wheels' filling by using clues provided through a simulated MSN Instant Messenger to find prizes hidden on a Bing map of the UK.
The game will encourage players to speak to each other through MSN Messenger, Facebook and a bespoke Wagon Wheels investigation hub, in order to help the teenagers prove Wagon Wheels are filed with "Martian mallow".
Simon King, head of marketing at Burton's Biscuit Company, said: "Our campaign has prompted huge levels of engagement. The Bing partnership takes things a step further and allows our audience to join the investigation alongside the stars of the wider campaign."
UM London has worked on the media planning and buying for Burton's Biscuit Company since 2004. The company appointed VCCP to its advertising account in December 2010.
Aaron Robb, digital planner at UM London, said: "Our Bing game allows teenagers to get completely immersed in the Wagon Wheels 'The Truth Is In There' campaign, and gives them the chance to play their own part in the mission.
"We have used a range of digital platforms to involve our core audience – and will be using Microsoft Hotmail and Live Messenger to extend our reach to our core teen audience."
Follow Maisie McCabe on Twitter @MaisieMcCabe