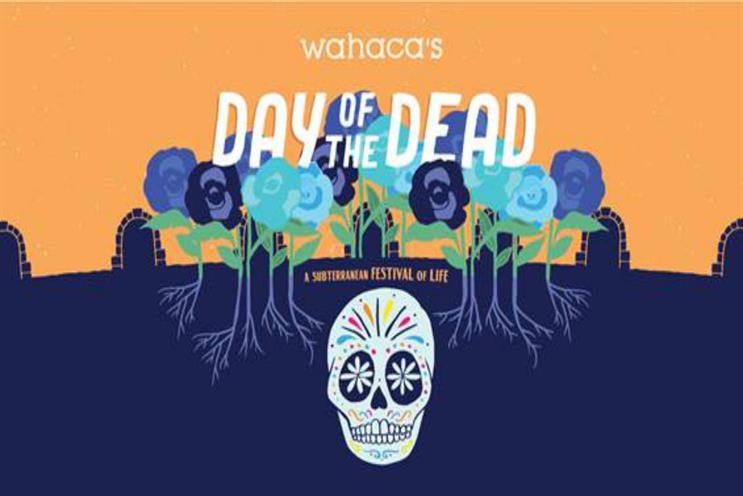 Wahaca's Day of the Dead Festival will take place from 2-4 November, and will see foodies, music lovers, and party-goers alike come together to celebrate life and remember those who've gone.??
Day of the Dead celebrations will be brought to life with decorations and a limited edition feasting menu, to help people be part of the festival nationwide, at Wahaca restaurants in London, Manchester, Edinburgh, Liverpool, and Brighton.
The Vaults at London Waterloo will play host to a two-day festival, featuring live music, Mexican performers and art, and hands on experiences for revellers to enjoy. The festival's labyrinth of tunnels will play host to a Mayan jungle and a re-creation of the Cemetery Panteon General in Oaxaca, with performances of poetry and songs where guests will be encouraged to pay their respects to the loved ones they've lost. Music will be curated by Movimientos with DJ's playing late into the night.
For those who prefer a different kind of party, Wahaca has teamed up with Morning Gloryville, who will be putting on a Day of the Dead-themed morning rave on 4 November kicking off at 7am.
A banquet with Wahaca's founder, Thomasina Miers, will be held on 3 November, in a transformed space in the House of Vans. The family-style feast will feature a selection of ew dishes including wild mushroom empanadas, sharing platters of slow-cooked beef shin tacos, roasted cauliflower with cashew nut cream, and chocolate brownie with mezcal caramel sauce.
A Mexican-themed street food market will also take place at Leake Street in London, while Wahaca restaurants across the UK will be transformed with Mexican decorations and will serve a specal Day of the Dead feasting menu.