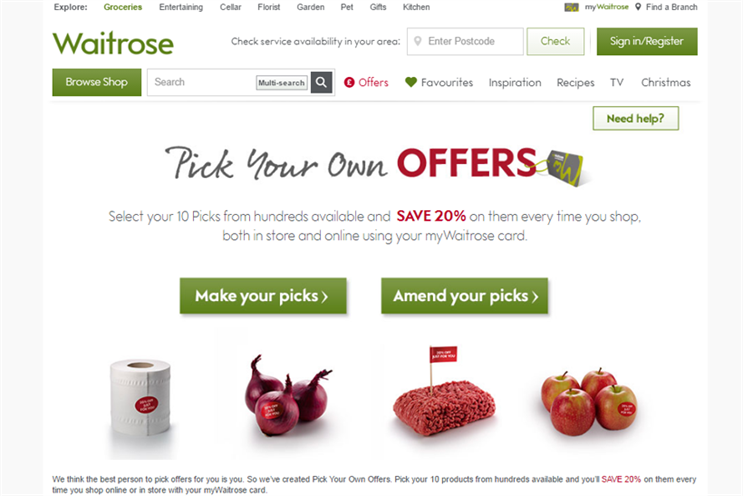 Personalisation is not the same thing as relevance
Waitrose only introduced its loyalty scheme myWaitrose in 2011, and was careful to ensure the scheme was a distinct proposition, said Rob Collins, managing director of Waitrose.
For a long time, the supermarket did not advertise or engage in any traditional marketing activity – instead preferring to rely on word of mouth. This changed, said Collins, because "a brand is like an iceberg – we used to focus on the two-thirds below the water, but realised we also needed to pay attention to the third above the water."
In order to differentiate myWaitrose, the retailer opted not to use a points system, instead offering a range of immediate benefits, some of which are delivered unexpectedly. Aside from the core offers of free coffee and newspapers, each reward is highly targeted to users most likely to be genuinely excited by it, based on their purchase history. And the "Pick your own offers" deal, which allows users to select products to receive a discount on, ensures relevance by putting the consumer in direct control.
"In a world where we all get a blizzard of messages, we recognise this careful balance we've to strike between personalisation and relevance," said Collins.
When most shoppers have multiple loyalty cards, he said, there is a risk that loyalty becomes meaningless – and "if we hadn't of got the heritage that we had a business it would have been an awful lot harder" to launch the scheme. "We have to earn the right to our customers' data – they give us the right to use it and use it well."
Data can manifest itself in all sorts of ways
Diageo's large stable of category-leading brands provide ample opportunities to be creative with data in a range of ways, said John Kennedy, European president of Diageo.
During last year's Rugby World Cup – a tournament that Guinness did not sponsor but was closely associated with by consumers – the drinks giant used a WhatsApp group, consisting of marketers, designers, lawyers and others to quickly devise written and graphic social posts responding to matches in the tournament.
The brand analysed social posts to build a picture of the narrative forming and used this to inform its content – as with this image, which went up following Japan's famous victory over South Africa:
Kennedy also discussed how Pimm's took advantage of the fact that its UK sales are highly dependent on the summer weather, by running a digital outdoor campaign last summer that used both weather and location data to update its displays. The ads, which activated when the temperature went above 20 degrees, featured info directing people to venues in the vicinity with available outdoor seating. The pubs in question updated their status every five minutes, meaning when they were full, they were removed from the ads. "For those of us who have spent summers waiting for that elusive hot day in London, that is high value information," said Kennedy.
He added that the breadth, depth, and speed of growth of digital technology meant brands should continually be looking for ways to up their games.
"One of the social media companies said to us, you guys should keep working until you have a one-to-one relationship with each of your consumers," he said. "That is a long way off, but it's a good challenge."
Data is not the be all and end all
Tom Moody, vice president and managing director Northern Europe, Procter & Gamble, cited an example where data had got it wrong.
He discussed the FMCG giant's idea to create Lenor Unstoppables – small beads that can be added to a wash in varying proportions. P&G aimed to give the user more control over the level of fragrance in the finished laundry and it assessed the idea using its consumer data. The result was clear: there would be no demand.
"The analytics said it was a tiny idea, not worth launching," said Moody. But the team behind the product were insistent that the concept was strong, so P&G commissioned a small trial, in which Unstoppables was given to 20 UK households for a period of time. The feedback was overwhelmingly positive, leading to the product being launched and generating £30m of sales in its first 18 months on sale.
"I'm not sure why the data was wrong, but it demonstrates that we always have to combine multiple angles before we make a decision," said Moody. Putting too much faith in data means overlooking opportunities that it may not be able to spot, he added.