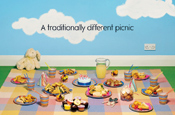 In an attempt to distance itself from M&S, Waitrose has increased its investment in matching the price of its branded products to those of Sainsbury's by 50%, up from £20m in 2007. This price comparison will be communicated in-store and online.
'Consumers believe that we are 5% more expensive than M&S, but we are, in fact, 15% cheaper,' said managing director Mark Price.
The cost of groceries in the UK has soared 5.8% since the start of the year, according to research firm Verdict. UK shoppers are now paying an extra £514m a month.
Last month Waitrose, which takes £4 in every £100 spent at Britain's supermarkets, replaced its 'Good food, honestly priced' strapline with 'Everyone deserves quality food. Everyone deserves Waitrose'. The change is intended to broaden its audience. Previous campaigns have focused on food provenance and the brand's ethics.
It supported the changes with an ad campaign, created by MCBD, with a picnic theme to promote the enjoyment of food.
Separately, Price has urged consumers to reassess the quality of the food. 'We spend 15% of our disposable income on food compared with 30% in 1957, but we still buy £1.99 chickens,' he said.