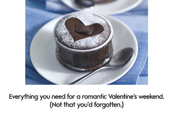 The ads, which each communicate that Waitrose has "everything you need for a romantic Valentine's weekend", were created by Miles Calcraft Briginshaw Duffy.

Each execution features a food product from béarnaise butter on a steak, icing sugar on a soufflé, smoked salmon on scrambled egg and the bubbles in a Champagne glass all forming a heart shape.

As well as appearing in national press and online, the ads will feature as a coverwrap around Metro on Friday 13 February, in a bid to drive love-struck consumers to stock up on Valentine's meals.