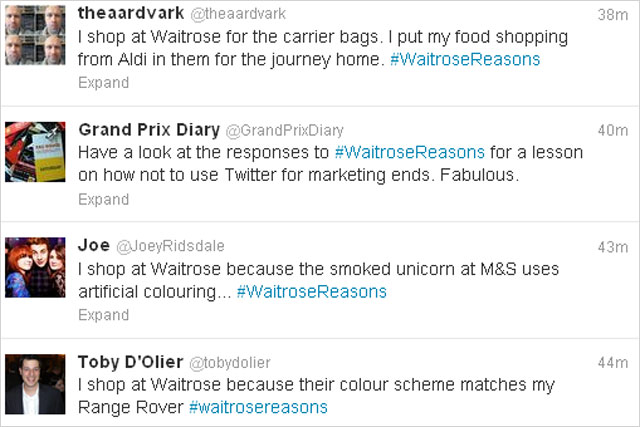 The supermarket chain launched its campaign on Monday (17 September) with a tweet that asked shoppers to complete the sentence, "I shop at Waitrose because..."
Waitrose has taken the satirical replies in good humour and thanked people for their funny tweets with a spokeswoman saying "it certainly provoked a reaction but we like to hear what people think".
Despite the backlash, Jason Woodford, chief executive at digital marketing agency SiteVisibility, said the campaign should not harm the brand image.
He said: "This was a very clever marketing ploy from Waitrose and it has reinforced its brand values of quality and reliably excellent service as a key point of differentiation from the other grocery chains.
"Their marketing team and management has managed to reflect a personality as well by recognising the humorous elements of both their campaign and some of the responses its encouraged."
Follow @mattchapmanuk