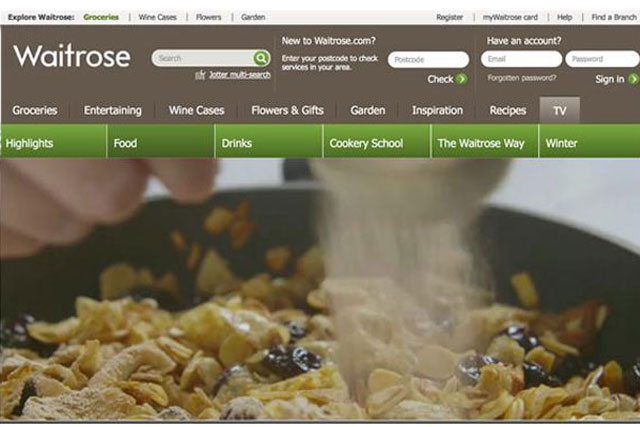 Waitrose Weekend will grow from 20/30 pages to around 40, while the supermarket is also continuing to build its Waitrose TV channel – Ellwood explains the firm's rationale.
Are you putting a greater proportion of your marketing budget into content?
We're not going to compromise on above-the-line. It's an important part of the marketing mix. But we've always invested heavily in content and it's been a central part of our marketing. It's what our customers love about us. It gives us a really deep level of engagement.
We are continuing to invest in it as a channel our customers love. So yes, we are investing in it. But I wouldn't say it's disproportionate.
What are your plans for Waitrose Weekend?
We've pretty much doubled Waitrose Weekend from a content perspective. We've extended the list of talent that we're working with. Clare Balding has come back – she's been off for a while because of her commitments to sport.
Waitrose has got a bigger circulation that many of the dailies and it is a lifestyle weekly paper and I guess the talent that we've extended it to reflects that. The list of talent we've recruited very much reflects all the interests and it goes beyond food and drink and is very much a lifestyle weekly paper.
Tell us about Waitrose TV's content strategy.
Waitrose TV is all about bringing our printed content to life digitally. We've done live shows with Heston [Blumenthal]. The content on there is everything from short-form to long-form content – covering everything from cooking, tasting, experiencing; and beyond food as well, so we've done some great stuff with Alan Titchmarsh on gardening. It's an extension of our content and very much focused on exploding that through the digital aspects; and we see that as really important.
At any one time we'll have 300 films on our website, plus another 300 on YouTube.
What we are increasingly focused on is converging our content so that we connect all our publications' and digital content together. That will enable us to grow our talent base and continue to explode it and get it out to more people and more places.
Historically we've driven people to our content but we're going to do more to drive our content out through other channels. So that it's part of the customer journey, so it's integrated into the customer journey and it can accessed any way customers want to access it.
Is your content created in-house or do you use external agencies?
We have an editor-in-chief who looks after all the editorial across all of our channels. We do work with John Brown on Waitrose Kitchen, which is now in its 11th year. It started as Food Illustrated, the UK's most popular and fastest-growing magazines.
We produce recipe cards – 100 recipes a month – that we put out through our stores and online – and we produce Waitrose Weekend in-house and we have an editor and editorial team.
Can you explain the structure within marketing that oversees content?
Rupert Thomas is the marketing director and I'm head of marketing. In the marketing comms team you've got above-the-line, local and new branch openings and you've got content which includes Waitrose TV and Waitrose Weekend. We've got a food editor, we have an editor-in-chief and then editors of Weekend, etc.
We are a sizeable media owner and we've got nine million customers a week who really engage with our content. I think that's unique and I think it's matched to the credibility we have within food, with the talent that want to work with, with our brand positioning – I think all of those things together mean that our customers are increasingly engaged in that side of our business.
What do you think differentiates you from your competitors, such as Tesco and Sainsbury's?
Out content when you look at it is not about overtly selling. We're very keen to share the love of food. If you look at the content online, you'll see there's not a huge amount of product placement there.
Obviously we're interested in selling, but we feel confident in our own brand that we can produce content like that and people understand what we're trying to get across.
What we have is very clearly defined publications, with Kitchen being a brilliant food/lifestyle magazine and Weekend being a weekly paper that is again lifestyle.
We're unique in that we have a huge list of talent that are desperate to work with us, and that's based on our credibility around food. Increasingly, we're finding ways and opportunities to work with all that talent, so extending Weekend is one of those ways.
Are you going to continue to build on your content?
Definitely. We're going to continue to invest in it. The channel mix is changing the way people consume content. We need to reflect that in our content. Hence the work we're doing around digital.
Aside from inspiring loyalty among your existing customers, do you think your content marketing strategy helps you attract new ones?
We are increasingly doing a lot in the social media space. Currently, we've got a great campaign running on Mother's Day, where our customers can go and dedicate messages to their mothers. We're doing an experiential piece, which we'll follow up on, creating this beautiful Mother's Day card out of flowers, and they can share that with their friends.
It's another opportunity for us to have a voice and to talk and to share. So we do critically see that as a way of getting new customers. The great thing about social media is that it's a great way of introducing people to our brand, if they've never really experienced it in a way that they're comfortable with. Obviously social media appeals massively to the younger generation and is a great channel for us.
So yes, I do think it's about getting new customers, as well as rewarding our existing customers.