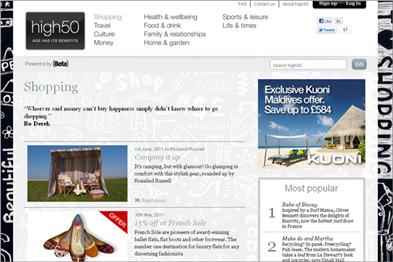 If you're over 50, reasonably well heeled, enjoy good health and have most of your marbles still in approximately the right place, the chances are you face a very bright future.
You're little more than halfway through your life. You could easily live to be 80. Maybe 90. And more of you than ever will see it all the way through to get your telegram from the Queen. Except it won't be a telegram. And it won't be from the Queen. Probably, it'll be from King William V.
No more do people over the age of 50 totter quietly into retirement, a sedentary lifestyle and extinction. Advances in modern medicine and increased awareness of the benefits of a healthy lifestyle have changed all that. With the kids off the payroll and a decent pile of money behind you, your "act two" could be a lot more fulfilling than your "act one". There's the world to explore - travel has never been so affordable - and there are new experiences to experience. Meanwhile, technology is delivering information, entertainment and connectivity in a way that suits older people just fine.
It's a myth that the older generation is technophobic. Take-up of communication technology in this sector is happening faster than any other. Just go into any Apple Store. Check out how many of the people having tutorials on how to operate all that "cool stuff" are "silver surfers". For heaven's sake, it was this generation that invented the "cool stuff". Bill Gates and Steve Jobs both turn 56 this year.
The "golden guinea" is becoming very powerful indeed. By the year 2020, almost half of the population of the UK will be over the age of 50, and most of the nation's disposable wealth will be in their hands.
No wonder luxury goods brands are busy scratching their heads, figuring out how to seduce the oldies. Witness Louis Vuitton ads featuring Mikhail Gorbachev, Keith Richards and that poster girl for the 50-plus generation, Madonna.
Talk to car salesmen. Though they may not want to admit it, the average age of a new Porsche 911 buyer is rumoured to be well over the age of 50. And that goes for most of the other upmarket car brands too, not just the ones that represent Viagra on wheels.
Which brings us to one of the most fascinating over-50 conundrums: female beauty. Will the fashion world, the cosmetics industry and the media continue to pretend that only skinny teenagers exist, when a huge chunk of their market is now over the age of 50?
The glossies are beginning to catch on. "Wrinkles are beautiful!" "Sixty is sexy!" "Life begins after the menopause!" Did anyone see those steamy pictures that Tom Ford, who turns 50 this month, did of old people petting heavily in French Vogue a while ago?
We change when we turn 50. We become less concerned with what other people want us to do, and more concerned with what we want to do. Turning 50 can trigger a life reassessment and change of massive proportions. More and more people are getting divorced in their fifties. It's quite understandable, faced with perhaps another 40 years of an unsatisfactory marriage. Equally, 50-plus has apparently become a popular time to surprise your children by coming out as a homosexual.
And in an industry where brands are obsessed with youth rather than wisdom, while many 50-plus-ers recognise they may well be working well into their seventies, a whole raft of 50-plus entrepreneurs are emerging, determined to do it their way and to create businesses that won't kick them out just because they are old.
These "olderpreneurs" are the unsung heroes of the new economy, with many of them setting up lifestyle businesses, facilitated by technology and run from home. They work and play in perfect harmony - for "olderpreneurs", retirement is neither an option nor an ambition.
The time has come to wake up and smell the decaf. In spite of overwhelming evidence that suggests age is where it's at, we still live in a society where age is rarely celebrated, the needs and wants of the older generation are under-acknowledged, and the implications of this change in our population's balance is underexplored. And we're talking about a generation of people who historically know how to speak up and start a movement.
Could it be, like women's liberation and flower power in the 60s and gay pride and punk in the 70s, that age power is about to kick off?
At Beta, we hope so. We couldn't resist aiming the first of our "branded communities" at the 50-plus sector, and created high50, a web-based property aimed fair and square at the well-heeled over-50 market.
Will high50 fly? We believe it stands every chance. If you're over 50, sign up. If you're under 50, stick yourself on the waiting list.
Robert Campbell is a founder of Beta and high50.com.