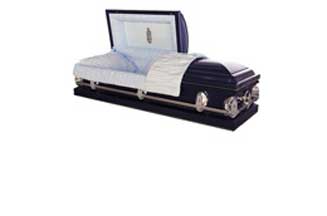 The retailer, which owns Asda in the UK, can now claim to cater to its customers' needs from cradle to grave.
Prices of the coffins will range from $895 (£540) to $2899 (£1751). The designs include messages such as 'Mom' or 'Dad Remembered' and come in a choice of steel or bronze finishes.
The retailer is even offering a payment plan, enabling customers to pay for the caskets over 12 months interest-free.
The products can be dispatched within 48 hours.
The website offers several coffins and several dozen urns, with separate ranges for people and pets.
Wal-Mart said the new coffin range was a 'limited beta test' to see how customers would respond.
An Asda spokeswomen said: 'it is doubtful we'll follow in their wake, but we are undertaking a review.'
Below: Butterfly Cloissone Keepsake Heart Urn
Below: Classic Pewter Paw Prints Pet Urn: