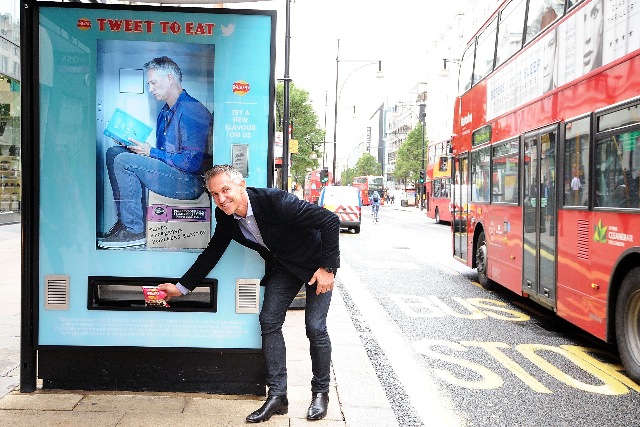 Bus shelters in Clapham Junction and two in Oxford Street have been set up with tweet-activated vending machines in a campaign created by OMD UK, AMV BBDO, Talon and Clear Channel. The installations will remain in place until 11 September.
A series of short clips show Gary Lineker appearing to sit inside the bus stop vending machines. Passers-by are then encouraged to tweet @Walkers_busstop, triggering the vending machine to dole out free packets of crisps.
"Walkers loves bringing fun to the nation and we are extremely excited to launch the first ever Twitter vending machine on the streets of London," said Walkers marketing manager Lee-Teng Chung.
"The 'Do us a Flavour' campaign has taken the nation by storm, so we are delighted to offer them the chance to try the new flavours through the first ever interactive Twitter vending machine. We can't wait to hear more about what the public think of each of the unique flavours."
The 2014 'Do us a Flavour' campaign launched in January. The six 'finalist' flavours include: Sizzling Steak Fajita, Chip Shop Chicken Curry, Pulled Pork in a Sticky BBQ Sauce, Ranch Raccoon, Cheesy Beans on Toast and Hot Dog with Tomato Ketchup.
The vending machines will be stocked with one of the six finalist flavours and will dispense 260 packets of crisps daily. The public will be encouraged to vote for their favourite flavour online and a YouTube video featuring the making off the footage will be released on 8 September.
Meanwhile, Walkers is also ramping up its radio activity through a two-week collaboration with Capital FM brokered by OMD UK. From Monday, the station's DJs will promote their own favourite flavours from the shortlisted finalists.