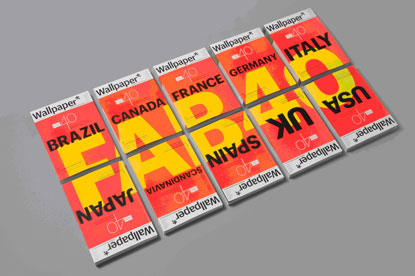 Countries including the UK, US, Brazil and Japan make up ten of the Fab 40 issue covers, with an 11th covering all the other countries where it is distributed.

The content for the issue details 40 of the most original ideas and trends from each of the territories.

Each section celebrates the fashion, art, design, travel and food unique to each locale; Brazil's up-and-coming artists, the UK's 2012 Olympics site and neo-speakeasies in the US.

Tony Chambers, the magazine's editor-in-chief said: "Wallpaper* is a truly international brand and it was an exceptionally difficult task to select just ten territories to focus on for this special issue."

The November Fab 40 issue of Wallpaper* hits the newsstands on 8 October.