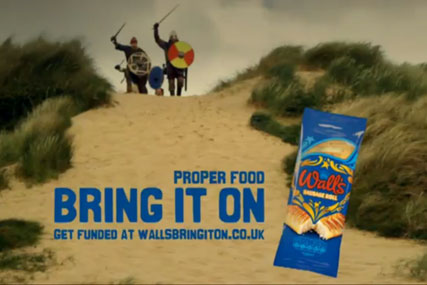 The campaign began with a 60-second TV spot that aired during 'Big Brother' over the weekend.

The TV ads are shot in documentary style and aim to showcase ordinary British people who possess a 'Bring it on' attitude.

In one of the TV ads, viewers can see a family who love the Viking way of life and go out of their way to attend battle re-enactments all over the UK. The Wall's sausage roll plays a prominent part in the family's journey.

Saatchi & Saatchi is aiming for the campaign behind Wall's – which includes its pork pie brand, pasties and sausage rolls - to champion British eccentricities.
As part of the strategic change, an overarching website will, unlike before, house all the Wall's brands. There will also be a heavy focus on digital, particularly in the social space.
The campaign for Wall's, which is owned by Kerry Foods, will run across TV, print, radio and digital.

Paul Silburn, creative partner, Saatchi & Saatchi, said: "'Bring it on Britain' provides a great platform from which the public can get involved with the Wall's brand."