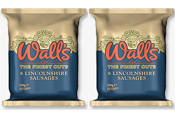 The food brand is the latest to be investigated by The Sunday Telegraph as part of the newspaper's ongoing campaign for more clarity in food labelling about where produce comes from. The newspaper points out supermarkets and manufacturers do not have to say where processed food comes from.
Wall's, which is owned by Irish food producer Kerry Group, said the markers 'Lincolnshire' and 'Cumberland' only referred to the recipe and not the origin of the meat, which comes from Denmark, Holland and Germany, as well as Britain.

British pig industry representatives attacked the company, with Barney Kay, general manager of the National Pig Association, saying "the consumer is being misled".

Chris Lamb, spokesman for BPEX (British Pig Executive), said: "Wall's is an iconic British brand, but they are extremely funny about saying where their meat comes from."

Kerry Group director of corporate affairs Frank Hayes estimated that half of Wall's meat came from Britain and said there was not enough pork in Britain to meet demand.

He said: "We don't state the origin but in fact we source what we can from the UK market and complement that with supplies from audited European producers."

Tesco also admitted that the meat in its 'standard' Lincolnshire and Cumberland sausages comes from Europe, and pledged to introduce new labelling rules stating which country the meat comes from.

Previous reports by The Sunday Telegraph have focused on sandwich chain Pret a Manger, criticising it for describing as "fresh" sushi made from fish shipped from Chile and chicken sourced from Brazil.

Brand Republic polled readers on what Pret should do in response, and 50% said it should run a new marketing campaign to restore its image while 25% said it should revamp its packaging.