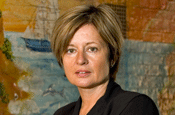 It is understood that Walsh won't be replaced and executive creative director Ed Morris and chief strategy officer Rebecca Morgan will assume her responsibilities. Steve Gatfield, Lowe Worldwide chief executive, and Tony Wright, Worldwide chairman, are also expected to become more involved in the London agency.
Walsh became chief executive of the agency in October 2006. She was appointed by Gatfield. She replaced Garry Lace, who had exited the agency earlier in the year.
Gatfield said: "Amanda joined Lowe with a brief to turn around the economics and put the agency on a growth track. Without question, Amanda has achieved that goal. Creative successes for John Lewis, InBev and Unilever combined with new business wins of COI, Beck's, GM and Unilever's Magnum ice cream and Signal toothpaste have put the agency both back in the black and on the map, and back onto high-profile pitch lists."
More to follow in this week's Campaign.