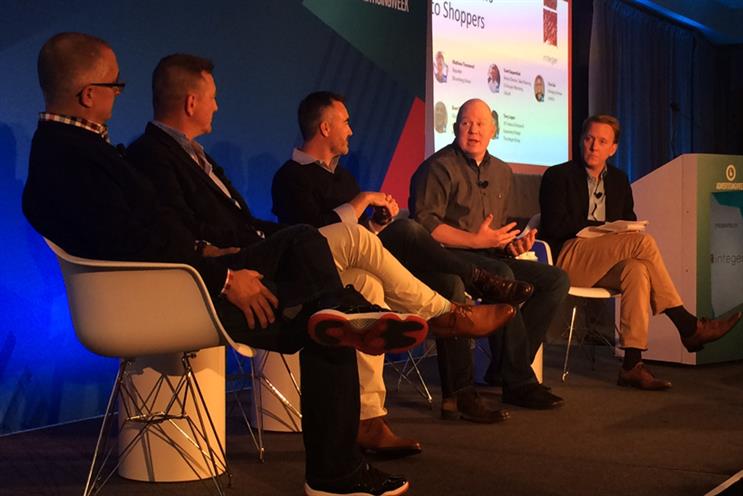 Advertisers looking to reach Xbox's massive audience should think less about advertising in video games themselves and more about off-line integrations, said Brent Coyle, Microsoft's global lead for Xbox, at a Thursday panel discussion during Advertising Week.
"Brands should approach a game like they would a movie," he said, meaning that brands should create experiences around the game and not directly within them.
He points to Rockstar Energy Drink's latest collaboration with the new "Gears of War Four" game, in which the beverage brand partnered with artists to design limited-edition cans. Under the tab of every can was a code that the consumer could enter online to receive exclusive game content inspired by the artists.
The panel, titled "Turning Gamers into Shoppers," moderated by Matthew Townsend of Bloomberg News, focused on how brands should go about connecting with gamers. Joining Coyle on stage were Terry Logan, VP and head of venture and design at agency The Integer Group, Scott Sappenfield, senior director at video game developer Ubisoft and Chris Erb, managing partner at specialized gaming agency tripleclix.
"Most of the time brands look at us as a media company," said Sappenfield, "but they should not just advertise, they should enhance the game in some way."
And according to Coyle, consumers spend the most time immersed in games than other forms of entertainment. "If you see "Star Wars" three times that's a dozen hours," he said, "but gamers are going in and spending hundreds of hours."
When these consumers are immersed in their games, the last thing they want are brands popping up in signs or other awkward places within the digital worlds. Like all modern consumers, gamers don't like to be interrupted. "Gamers are smart consumers," said Coyle, "They like to be challenged. Their whole job as gamers is to figure it out."
"The real question for brands is if advertising is all they want or if they want to create relationships," said tripleclix's Erb. "The longer you are in the space, the more of a legacy you have."
According to Coyle, beverage and snacking brands are responsible for most of the long-term engagement in the gaming space. Think Red Bull, Lays and Coors Lite. However, Coyle said any brand can operate in the space as long as they are willing to commit to adding something to the experience.
"In some apps, brands arrive, then leave, and don't continue the conversation," he said.
Although the video game industry has steadily grown since the 1940s, experts still feel the need to educate advertisers away from stereotypes of its devoted users. Coyle said gamers represent a much broader and diverse segment of the population than most people realize.
According to Coyle, when people imagine a gamer, they think of a young, male adult living in his parents' basement. Microsoft data reveals something else. "The average age of gamers is 31 and women make up 40%," he said. "Everyone is gaming."
In fact, a recent Newzoo report found that gamers worldwide will generate more than $118 billion by 2019, $19 billion more than the $99 billion projected for 2016.
"We are mainstream entertainment," said Coyle. "We are not just a basement activity anymore."