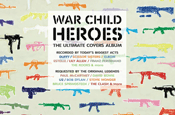 The agency was appointed without a pitch, and will create a number of TV and radio ads which will be voiced by ex-Doctor Who actor David Tennant.
Released by EMI through its Parlophone label, the album sees some of the biggest names in music history select one of their personal favourite songs from their own back catalogue, and nominate a musician from the next generation to create a modern reworking of it.
Tracks include a version of Paul McCartney's "Live and Let Die" sung by Duffy, Franz Ferdinand's version of Blondie's "Call Me", and a cover of U2's "Running to Stand Still" by Elbow.
The album will be released on February 16, and all profits made will go towards helping protect children caught in the conflict of war.