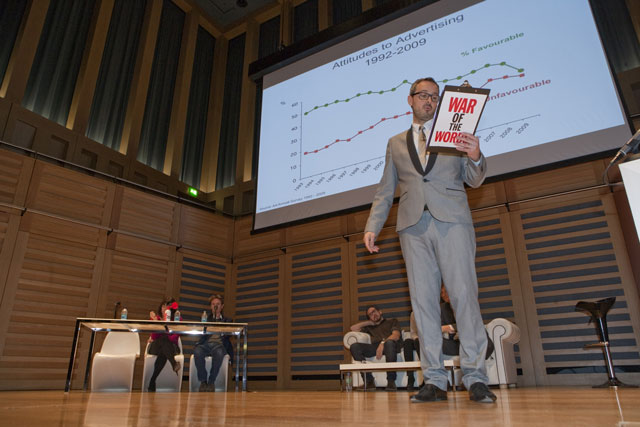 Jiang, who wants to develop a career as a planner, impressed the judging panel and the audience with his argument that advertising focused too much on creating awareness when turning consumers into brand evangelists is a realistic goal.
His three minute presentation - based around his fondness for the film 'Fight Club' and movie storytelling - won the public vote and secured him a trip to New York for two.
For the overall prize, Jiang had to fight off stiff competition from Cake's Nicola Davies, AMV BBDO's Benedict Pringle, BMB India's Ashish Pathak and Global Radio's Oliver Deane who won the Planning, Creativity, Brand and Media sessions, respectively.
Campaign's War of the Words, in association with The Huffington Post UK, was a new, half-day, fast-paced highly curated event where our speakers - all aged 30 or under - presented ideas that may shape the future in profound ways.
Aside from the public vote, the speakers had to undergo scrutiny from three industry judges: CHI's Johnny Hornby, David Hackworthy, founder, The Red Brick Road and Nikki Crumpton, the chief strategy officer of McCann WorldGroup.
"It was an honour to be a judge," said Nikki Crumpton. "But, more importantly, it was a gift, as an agency judge, to discover that young creative people want to work in ways that agencies are not currently able to support.

"We are a million miles away from it," she admitted. "The fact that the [young] coders are coming terrifies me - but they are coming and we are unprepared for them."

Crumpton said the day had inspired her to look at how McCann might invest 30 per cent of its profits into an R&D department that would investigate such things as data analytics, new business ideas and prototyping.

David Hackworthy said it was notable that the contestants "seemed very comfortable with having clear points of view. Not a disrespect for what's gone before but a lack of a need to adhere to any of it," he said.
"I want to break into advertising and to do that, you have to be prepared to get out there and get noticed," Jiang said. "I was just so happy to come here and speak, let alone win."