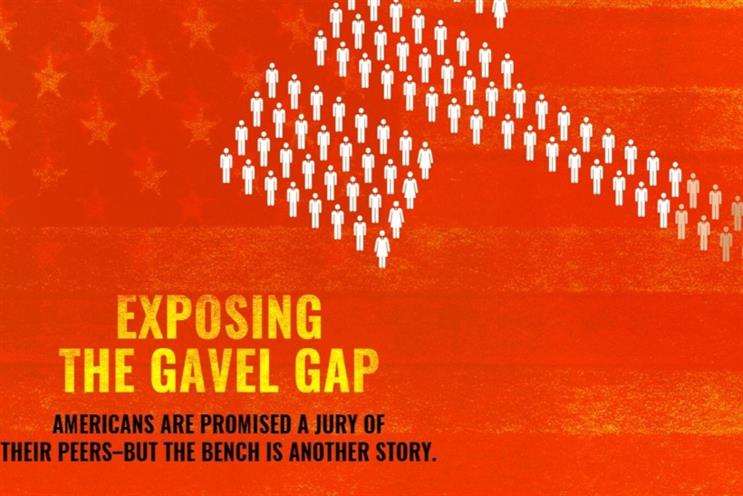 The Washington Post's in-house creative agency is leveraging the publication's A.I. storytelling tool for the first time.
WP BrandStudio is using the automation technology known as "Heligraf" for a new branded content piece with Amazon Prime Video to promote the season two premiere of "Goliath."
"Exposing the Gavel Gap," is an article that will keep readers up to date on the issue of diversity in America's judiciary, a topic inspired by the show's themes.
"One of the reasons that this is so exciting for us is both because we're leveraging the Heliograf technology for the first time, and this topic is so interesting to the Washington Post audience," said Annie Granatstein, head of WP BrandStudio at The Washington Post. "For us it's a win-win -- we're getting to do something inventive and, to some degree never been done before, but also something we know that's really going to resonate."
The automation tool will power a real-time dashboard on judicial vacancies, nominees and approval data. It will also automatically update relevant contextual sentences within the branded content article to surface the latest data from USCourts.gov on the federal judiciary.
The piece was put together in part by WP BrandStudio's journalists -- a team separate from the Washington Post news floor.
"We're incredible lucky at Washington Post because the newsroom is constantly developing tools like Heliograf," she continued. "We get to take advantage of the fact that they're so innovative. But the truth is, if we didn't have award-winning journalists on our team, we couldn't take proper advantage of it because the pieces we'd be creating wouldn't resonate."
While Granatstein didn't share the price tag of this work, she explained that branded content pieces formatted in a traditional article style with visual aids are usually marked at "a more affordable price-point," compared to other offerings that could include original video or complicated development. Granatstein added some campaigns can run well into seven-figures.
The season two premiere of Amazon Prime Video's original series "Goliath," which stars Billy Bob Thornton, airs on June 15. The Washington Post's branded content push went live today and will run for the next three weeks.