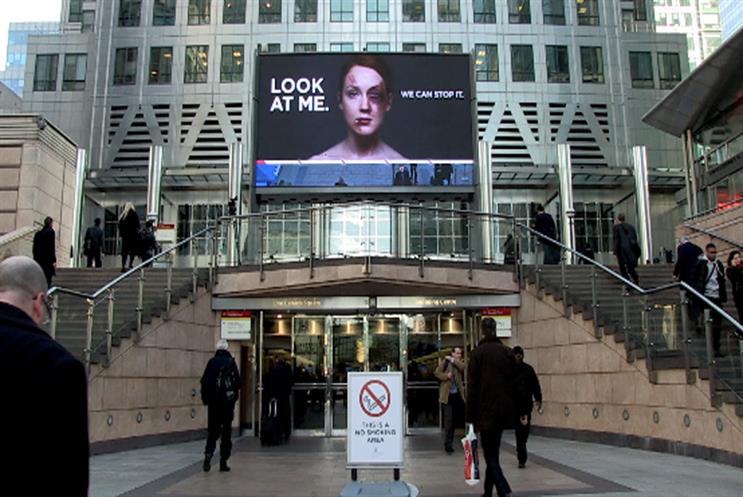 Images of bruised women carrying messages such as 'If you can see domestic violence, we can stop it,' and 'Don't turn a blind eye,' are displayed imploring members of public to stop and take notice.
Using facial recognition technology, passers-by who look at the advert are logged. The more people that look, the more the women on screen 'heal' and their bruises disappear.
WCRS created the campaign for Women's Aid in the latest work from this collaboration. Dino Burbidge, director of innovation and technology at WCRS explains "[it's] very simple- walk past, it recognises you, takes no data from you, but it just adds you to a progress chart."
"Underneath, it's actually very complicated, but the technology is invisible, and that is how we wanted it to be."
Previously, WCRS teamed up with Women's Aid to create the interactive cinema experience, Blind Eye. "I think that's where the technology is going, and the industry is going- how can you make things relevant and personal?"
Polly Neate, chief executive of Women's Aid, explains that by using images that the public may find alarming, they are forced to consider the issue and take notice: "Domestic violence is still a real taboo in our society. When women come forward they are often not listened to, they're not believed, they're not heard."
"I think people are quite shocked when they see the image of the woman, but then, domestic violence is shocking."
On average, two women are killed a week in England and Wales by a partner or former partner. Women's Aid acts by "working with and lobbying policy makers to make and keep survivors safe, and to end domestic violence in the future."
Neate says that despite the shocking effect of the images, the "end message is really positive: that we can end domestic violence…so I think that's a really strong and powerful message that comes through really clearly in the advert."
---
Recommended