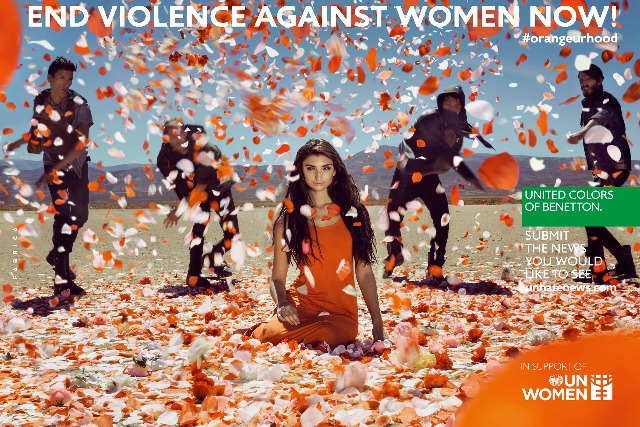 The 'Orangeurhood' campaign ad features a circle of men gathered around a kneeling woman, curling their fists as if they are about to stone her.
Instead they throw other objects at her, which turn out to be petals.
The spot airs this week and marks the start of 'Orange Days', a 16-day initiative by UN Woman, which highlights the female battle for freedom, with global events and activities.
The campaign is supported online by extra video and social media activity.
Benetton has also launched its Unhatenews site, developed in collaboration with the UN department of public information. The site asks young people to upload clips showing the news they wish would come true.
The activity is targeted at 18- to 30-year-olds. Benetton's charity, Unhate Foundation, will eventually pick the 10 most popular ideas and turn them into sustainable projects next year.
Young people can submit ideas around development, the fight against terrorism, sustaining democracy and human rights, with a focus on women's rights.
Benetton often centres its campaigns around social issues, previously highlighting HIV, race, disability, politics and terrorism.
Its work hasn't always gone down well with consumers – or the UK's ad watchdog – but the brand has always maintained it wants to get people thinking about "citizen consciousness".
Erik Ravelo, art director at Benetton's agency Fabrica, said: "We have always focused on socially responsible communication initiatives and were happy to lend our creativity as part of efforts to raise awareness on the issue of violence against women.
"We chose a flower instead of a stone to say no to a human rights violation that causes permanent physical and emotional scars and that is reflected in all social classes."
Read next