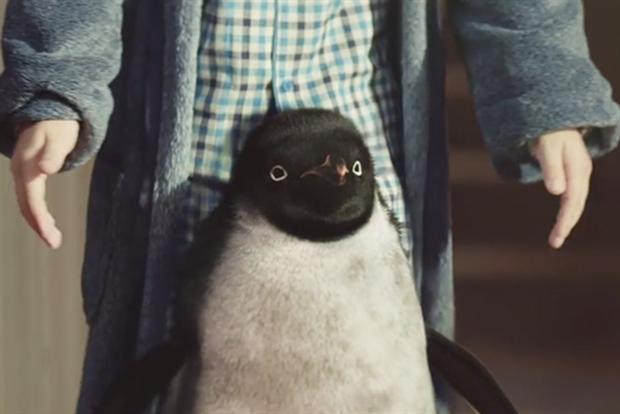 Racking up 1.8m views on YouTube on its first day of release, John Lewis's much-anticipated festive spot tells the story of a friendship between a boy and his toy penguin, Monty. It's now had an astonishing 16.1m views.
It tugs on the heartstrings with a heart-warming tale about love and the wonder of Christmas.
Starring the handsome, young Romeo Beckham as matchmaker, Burberry's first global Christmas campaign focuses on the theme of romance.
Harking back to the cinematic "golden years" and directed by Burberry's chief executive, Christopher Bailey, the epic spot shows Beckham bringing two young lovers together by uniting them with gifts from the fashion house.
The video, which weighs in at more than four minutes long, racked up more than 2.2m views on YouTube in its first 72 hours.
This year's Christmas campaign doesn't feature celebrities, but instead features two 'fashionable fairies'' spreading Christmas cheer to families around the country, helping them turn drab gifts into fab gifts. With the strapline 'magic and sparkle', the ad aims to capture the spirit of the festive season and will be supported by several spots featuring M&S Christmas food.
Set during WW1's famous 'Christmas day truce' football match, the ad features a British soldier reaching out to a German soldier on Christmas day. The enemy forces play a game of football before going back to the trenches. The spot shows the British soldier gifting the German man with a chocolate bar, the likeness of which will be on sale at Sainsbury's stores with proceeds going to the Royal British Legion.
Racking up 9m views on YouTube during its first week it had a mixed reception, with some celebrating it is a beautiful tribute, while others called it crass.
This quirky 90 second spot, created by Adam & Eve/DDB, features a Christmas scene with a young woman opening gifts. Family rivalry overtakes the festive scene as each tries to outdo the other with elaborate gifts that include a portrait, a puppy and even a unicorn. But it's not until she opens her final present - a Mulberry handbag - that she jumps for joy.
Featuring a giant, but minimalist, Advent calendar that reveals BMX bikers, skaters, bling-draped reindeer antlers and, at its summit, a child hip-hop dancing (a twist on the traditional Christmas fairy), this spot is the first Christmas ad Argos has produced since it dropped its alien family characters.
Aldi partnered musician and TV presenter Jools Holland for its campaign. The spot features a series of traditional - and not so traditional - Christmas dinner set-ups, ending with Holland playing the piano and wishing everyone a merry Christmas.
Set to a cover of Louis Armstrong's When You're Smiling, Asda's ad, created by VCCP, shows a series of nine vignettes depicting typical Christmas scenes, including putting up the Christmas tree, filling stockings on Christmas Eve, the excitement of children on Christmas morning and Christmas dinner. Each shares the common theme of happiness.
Boots' offering this year, created by Mother London, features various members of a family waking up at midnight as Christmas Day ends and Boxing Days begins, to gather for a surprise festive celebration for a nurse, returning home from her night shift.
This ad leaves viewers guessing until the very end whether the Christmas feast has come from Marks & Spencer or Waitrose before revealing it in fact comes from Lidl.
Continuing with the theme of genuine surprise, as seen in the retailer's 'Lidl Surprises' campaign strategy, the ad highlights people's amazement at the quality of the festive fare.
Highlighting the online retailer's selection of unique gifts, this quirky ad encourages people to have a "Christmas less ordinary".
Shot as a series of vignettes, featuring a host of unusual characters with perfectly matched Christmas gifts, it begins with a man clad in a Christmas jumper squeezing out of a chimney to deliver a necklace to his love interest, to the horror of her parents.
The department store slashed its Christmas marketing budget by a third this year but this ad still delivers Christmas magic, featuring children exploring an empty Debenhams store before finding the perfect gift.
In a departure from earlier years, it focuses on the giving of gifts, rather than fashion.
This ad, which features cover of Dolly Parton's 'Try' sang by the public, focuses on Waitrose's "unique" values and service. Featuring a young girl reluctantly baking gingerbread biscuits for her school Christmas fair, with some help from Waitrose on the way, the ad aims to highlight that because Waitrose is employee owned, it cares just that little bit more.
Vodafone: Let it go
This festive spot is Vodafone's biggest ever Christmas campaign. Featuring hospital staff, chefs, farmers and employees around the country singing 'Let it Go' from Disney film 'Frozen', the ad aims to highlight "the joy of being able to watch Sky films and TV shows wherever you are this Christmas on Vodafone 4G." It runs with the hashtag #PowerToTheFestive, a play on Vodafone's 'power to you' strap line.
Starring Ant and Dec, the ad is designed to focus on "what makes Christmas special". It features Morrisons' butchers, bakers, fishmongers, greengrocers and families, who all sing along to the festive tune, "it's beginning to look a lot like Christmas."
Samsung: All wrapped up early
Samsung's Galaxy Note 4 smartphone stars in this Christmas ad, positioned as the 'ideal tool' for festive preparation. The spot shows people using the smartphone in the run up to Christmas, with two parents filming their child's school nativity on the phone and a man using it for last minute shopping in bed. It will be followed by another ad, launching 24 November.
Depicting groups of young women travelling across cities including London and Paris to meet up for a celebratory night out, the ad stars Baileys as their favoured tipple. Created by BBH London, it is part of Diageo's strategy to persuade women to drink Bailey's in on trade venues like bars and clubs, as the drink is typically bought on impulse in supermarkets. The spot was developed by an all-woman agency team and largely female production team.
B&Q: Unleash Christmas
B&Q kicked off its Christmas campaign on the 20th November with a 40 second ad created by WCRS. Shot to the tune of "I've got the power" it shows a series of vignettes depicting 'everyday heroes' whose clothes suddenly disappear to reveal an orange apron before they 'unleash' Christmas in their homes.
Homebase: everything you need to host your perfect Christmas
This 30 second spot created by Leo Burnett and produced by Hogarth Worldwide, shows a family preparing for Christmas, swapping drab homeware for brand new, 'on-trend' Christmas decorations and homewares, with everything from Christmas trees and lights, tableware and soft furnishings.
A spin off 30 second YouTube ad showing the couple's dog, Harriet, home along and sprucing up her dog bed as part of the campaign.
Harvey Nichols: could I be any clearer?
A detour from traditional Christmas sentiment, this quirky ad for luxury retailer Harvey Nichols shows a young woman charting the unwanted but well-meaning gifts she's received from her beloved aunt over the years.
To take matters in her own hands, she orders a personalised Christmas card for her aunt from Harvey Nichols, which details exactly what she wants this year. "Christmas will be awakward," it reads, unless she's given the pair of shoes she wants. Thankfully for her aunt, the card details size, style and even a photo of the gift she so desires. Just to make sure she doesn't get it wrong.
The retailer is also allowing customers to take matters into their own hands by using the Harvey Nichols app to personalise and print their own cards.
Read next