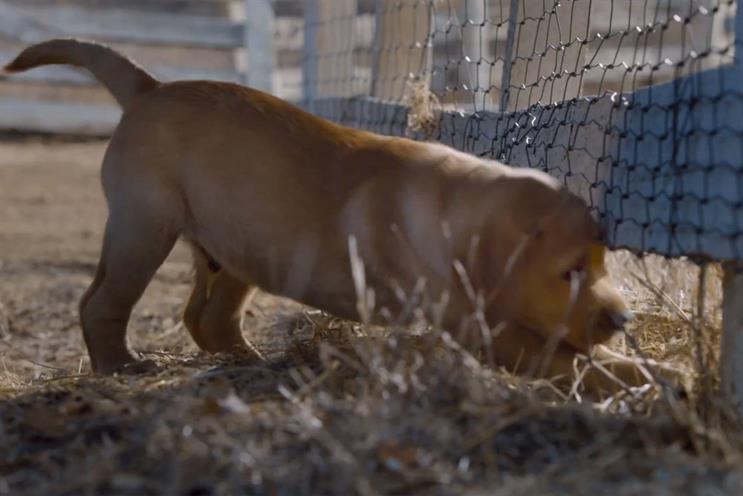 Its closest rival, another Budweiser ad also made by Anomaly, was shared just over 150,000 times. Other brands in the top five were Axe (known as Lynx in the UK), Jaguar and Kia.
The "puppy love" ad tells the story of an unlikely friendship between a horse and a puppy, playing right into the internet's obsession with animal pictures and videos. It was shared 1.38 million times according to data from social video expert, Unruly.
1. Budweiser "puppy love" by Anomaly
1,135,087 shares all time

View the rest of the chart below
The ad also dominated on TV, appearing on American national television channels 75 times and on 1,200 local broadcasts prior to the game, according to figures from media tracking company Civolution.
It has also entered the all-time most-shared Super Bowl chart, in sixth position.
An ad for SodaStream, which has proven controversial for its star Scarlett Johansson who cut her ties with Oxfam over her relationship with the Israeli company, failed to make the top ten most-shared ads of the Super Bowl.
The original SodaStream ad "sorry Coke and Pepsi" was banned from being shown on TV, but was shared more than 55,000 times, placing it just outside the top ten. The edited replacement was not shared enough times to enter the listing, however.
The edited ad was among the most-aired ads locally, nationally and internationally with more than 1,300 airings according to Civolution data.
Ads for Coca-Cola, Chevrolet and Cheerios also made it into the chart.
An ad for Toyota, created by Saatchi & Saatchi New York, featured Kermit the Frog and the rest of The Muppets, and was shared more than 50,000 times.
Kia and Volkswagen, with ads from David & Goliath and Venerables Bell & Partners, respectively, were also among the most-shared, making the autos sector one of the most-represented in the chart.
Sarah Wood, the co-founder and chief operating officer at Unruly, said: "It's not about a battle of the channels, it's about brands adopting an omnichannel approach, embracing TV and digital and reaching consumers wherever they happen to be socializing and sharing content.
"The smart brands have adopted a flare and connect approach."
2. Budweiser "a hero's welcome" by Anomaly
153,385 shares all time

3. Axe "make love, not war" by BBH
134,722 shares all time
4. Jaguar "rendezvous" by Spark44
116,607 shares all time

5. Kia "the truth" by David & Goliath
96,487 shares all time

6. Volkswagen "wings" by Venables Bell & Partners
81,460 shares all time

7. Cheerios "gracie"
70,993 shares all time

8. Chevrolet "romance" by Leo Burnett
60,212 shares all time
9. Toyota "Terry Crews and The Muppets" by Saatchi & Saatchi NY
50,862 shares all time

10. Coca-Cola "going all the way"
43,544 shares all time