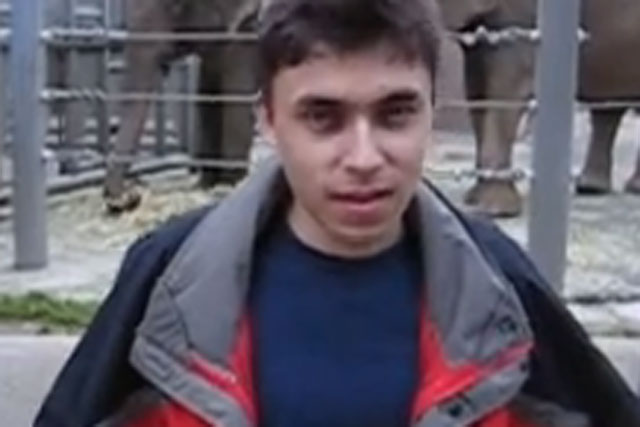 The video was uploaded at 8:27pm on 23 April 2005, and was filmed by Karim's friend Yakov Lapitsky.
A year-and-a-half after the first clip was posted, Google bought YouTube for $1.65 billion (£981 million) in October 2006.
In early 2013, YouTube announced it had one billion active users.
Rob Honeywood, creative solutions associate director at Carat, said: "It's hard to believe that YouTube hasn't yet been with us for decades. So firmly is it established in the day-to-day lives of media industry professionals that it's easy to forget it isn't just for forwarding gawp-worthy clips around the office for amusement.
He added that the emergence of YouTube "super talent" presented a major opportunity for brands.
He said: "The likes of KSI and DanIsNotOnFire command loyal and engaged followings that number in their millions, actively seeking out and consuming their content.
"Anyone can upload and share on the site, but, as a meritocracy, the most contemporary content wins out. Brands that enter this territory while remaining respectful of the new terms of engagement can generate huge credibility, such as Kellogg's Krave's 'Tweet When You Eat' campaign last summer, which redefined how a big brand can harness teen influencers."
The first clip has had more than 14 million views since it was posted in 2005. It is the only video uploaded by the account called "Jawed".
Jonathan Franklin, video account manager at iProspect said: "In those nine years, YouTube has evolved to the second-biggest search engine in the world, with 72 hours of content uploaded every minute.
"People's first instinct is to go to YouTube for video, as much as Google is the first instinct typically for search. With YouTube usually at the forefront of consumer's minds, it is no surprise that brands have started to utilise the platform from a consumer-engagement perspective."