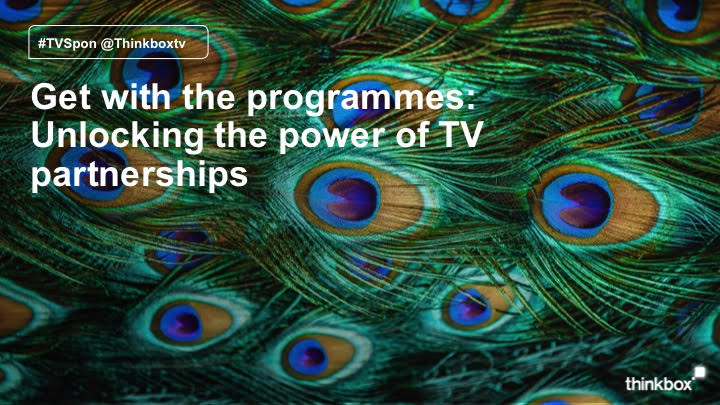 You may be required to enter your details to watch the live stream. The data collected will be managed by Thinkbox. Campaign and its publisher Haymarket will not be given access to this data. View Thinkbox's data policy.
9.30 – 9.40 The magic of TV
With croissants and bacon sandwiches in our stomachs, Matt Hill, Thinkbox's director of research and planning, introduces the day and what our minds are about to receive. He'll start with a reminder of what makes TV shows so magical and the perfect partners for brands.
9.40 – 9.55 Now for the behavioural science bit
House 51's Ian Murray takes us through the theories of behavioural science which informed their research into how TV partnerships drive brand preference.
9.55 – 10.40 For the love of brands
Does our love of TV show rub off on the brands associated with them? Catherine Heaney and Ian Murray from House 51 unveil the first section of Thinkbox's brand new research into how TV sponsorships work.
10.40 –11.10 Coffee break for those at the event/ a series of films for our online audience which include:
Brand stories from McCafé Moments and Budweiser Dream Goal plus bitesize films showcasing inspiring campaigns from the Thinkbox TV Planning Awards sponsorship and content finalists.
11.10 – 11.40 The effectiveness of partnerships
As night follows day, the second part of Thinkbox's new TV sponsorship research follows the first. In this section, YouGov's research director Leo Weir and associate director Justin Marshall look at the roles TV partnerships play using YouGov's Brand Index tool to benchmark the performance of different types of TV partnerships.
11.40 – 12.20 Built by association: the power of TV partnerships
How can you make the most of the many TV partnership opportunities available? Our expert line-up explores the different options and how these can supercharge brands. Featuring: Sally Quick, director of commercial partnerships at UKTV; Rachel Gibbs-McNeil, head of commercial and operations at StoryLab; and Bruce McGowan, head of broadcast content at Zenith.
12.20 – 12.40 The creative challenge
Charlie Read, founding partner of The Outfit, gives his thoughts on some of the best TV sponsorship creative and gives top tips for getting cut-through.
12.40 – 12.50 Summary & Close
Matt Hill looks deep into the recent past and sums up what we've learned.