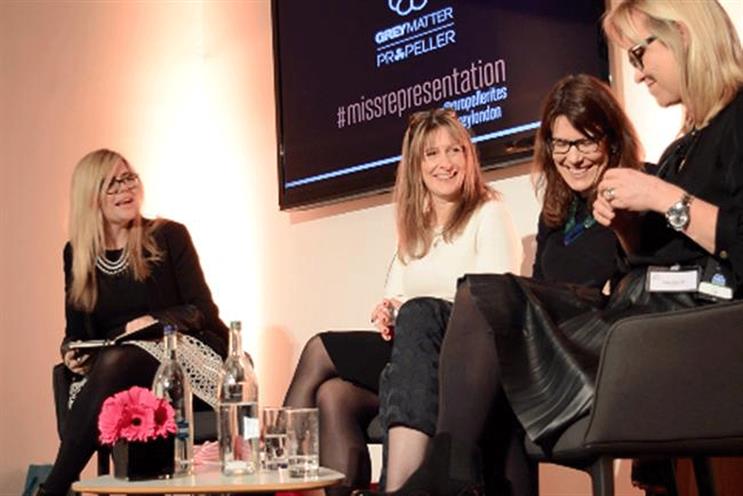 Emma Barnett, the women's editor of The Telegraph chaired the panel. The session was kicked off by the question, "If we didn't have wombs, would we be having all of these problems?"
Panellists Lindsey Clay (chief executive of Thinkbox), Lucy Jameson (chief executive of Grey London) and Torie Chilcott (co-founder, Rockabox) explored ideas about leadership, the pay gap, and whether or not there should be legislation and set quotas for companies to adhere to.
Speaking to Campaign, Jameson said she sees the digital changes as "both as a blessing and a curse…compared to when I was growing up, what you can see is incredible access to role models, information, inspiration and stories…obviously the dark side, I think, is the abuse that women get."
Clay referenced successful campaigns such as 'No More Page 3' and 'Everyday Sexism', which gained enormous traction across all areas of digital media and helped to change perceptions and progress women's rights.
Clay said: "[Digital media] is a spectacularly useful and helpful channel for women to get their message across. I think there are all sorts of campaigning groups, for example, that have really capitalised on the opportunities brought about by digital media."
Chilcott made the argument that the medium is as effective as you want to make it, regardless of gender. She said: "Digital media is all about new growth and... experimenting with new projects and new businesses.
"So I actually think it's about what you want to do rather than what your gender is."
Jameson said there is still much more to be gained for women's representation in digital media, making the point that advertising has the power to not just reflect the issues of the day, but also work to shape the media landscape, and challenge prejudices.
She said: "I think there's a load more that can still be done. You only have to look at the data to [see] there are still big issues with representation of women, so I think, actually, we have quite a role and a responsibility to shed a bit more light on that."