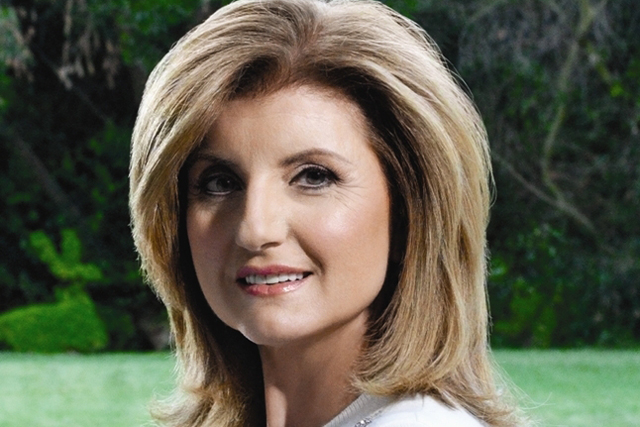 The president and editor-in-chief of The Huffington Post Media Group believes women will be the ones to redefine success, because they suffer the most negative consequences from the prevailing always-on culture.
Her media company HuffPost UK will be running a series of workshops in June at Carat, MEC, Mindshare and Manning Gottlieb OMD to help reduce stress and encourage wellbeing in the workplace.
Sessions will include: talks from Huffington and Carla Buzasi, the company's UK editor-in-chief; a pop-up juice bar; yoga; mindfulness sessions; massages and happiness coaching from Susie Pearl.
Campaign spoke to Huffington before last night's WACL event about mindfulness, mango trees and dealing with obnoxious flatmates. Here are her 10 best quotes:
1. On her personal wake-up call: "By conventional definition of success I was successful, but by any sane definition of success, if you find yourself in a pool of blood of your own, you're not successful."
2. On broadening the definition of success. "Our society has a very narrow definition of success - money and power. It's like trying to sit on a two legged stool – at some point you are going to fall off."
3. How the marketing industry can integrate mindfulness: "The marketing industry like the media industry is 24/7, but it doesn't mean the same people have to be on 24/7."
4. Mindfulness, meditation and wellbeing are not just for hippies: "These are performance enhancement tools, these are not optional practices. They are not for people who want to chill out under a mango tree. They're for people who want to be very creative, very effective but do it with the minimum amount of stress but maximum impact.
5. On ending the obsession with email: "Look at having an email policy that makes it clear that employees are not expected to be on email if they are off work. If there's something urgent, they can be texted or called. The expectation that people are on emails all the time, is the fastest way to burnout."
6. Brand communications are not to blame for the always-on culture: "Obviously marketers and brands are always going to try and reach people at all times. It is our responsibility as individuals to set boundaries."
7. On creativity: "There's nothing that kills creativity faster than burnout. We are undermining ourselves and our own effectiveness by buying in to the myth, the collective delusion, that burnout is the way to succeed. It's not. Everyone who has succeeded has done so despite burning out."
8. On the next women's revolution: "We don't just want to be at the top of the world, we want to change the world. The way the world is designed right now was designed by men and it's not working. It's not working for men...it's not working for women even more. Women have a harder time dealing with stress. We internalise stress too much. Women have a 40% greater risk of heart disease and a 60% greater risk of diabetes if they are in a stressful job, and I'm sure that includes everybody in the marketing industry."
9. On dealing with self-criticism: "Women tend to be more perfectionist and more self-judgemental. We have what I call the 'obnoxious roommate' living in our head. That obnoxious roommate judges us, doubts us, questions how we did everything and has a lot of negative fantasies about the future. Learning to grow up and not take the obnoxious roommate as the truth is key.
10.One tip that everyone can do today: "Pick a time at the end of the day when we turn off our devices and gently escort them out of our bedrooms. That's the time for us to recharge, renew ourselves and regenerate. We'll be more productive in the morning."