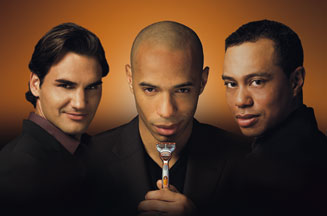 However, this is exactly what a creative strategist at Gillette's PR agency, Porter Novelli, publicly declared last month on Twitter.
The PR-man sparked the row in response to popular tweets suggesting that UK consumers boycott Gillette and switch to King of Shaves, in light of French footballer and Gillette brand ambassador Thierry Henry's handball in his team's World Cup qualifying match against Ireland.
Jean Wyllie, managing director of Porter Novelli, publicly apologised for the razor spat, adding that it was a clear violation of the company's social media policy. King accepted the apology, and the incident provided him with some juicy material for his blog.
A storm in a teacup, perhaps; yet if PR agencies, tasked with guiding marketers on connecting with consumers online, are getting it so wrong, how are marketers to successively navigate the choppy waters of social media?
The power of words
The Gillette incident highlights an important lesson for them: off-the-cuff comments in pubs will be forgotten in the morning, but those made online can take on lives of their own.
Just ask the vice-president of PR agency Ketchum, who tweeted of a visit to a marketer's head office in Memphis: 'True confession but I'm in one of those towns where I scratch my head and say: I would die if I had to live here.' Or Sarah Henderson, the daughter of General Motors' ousted chief executive, who used the car brand's Facebook page to declare that Ed Whitacre, the company's acting chief executive was a 'selfish piece of shift' (sic). This was only part of a four-letter rant following her father's swift exit from GM.
Nathan McDonald, managing partner at social media agency We Are Social, says that the advent of social media has contributed to the collapse of the space between what is personal, and what is business. He adds that many individuals are going wrong by failing to view their social media platforms as an extension of their public roles, particularly when they work within the marketing industry.
Put simply, marketers need to invest as much thought, judgement and effort in how they present themselves individually as they do their brands.
Wyllie says that, with the lines between personal life and business life so blurred, a marketing professional may not have any truly personal space on a social media platform.
This lesson was learned the hard way by one junior marketer who tweeted about an interview for a 'crap job at the world's most boring company' and, not surprisingly, failed to make it to the second interview stage.
While many agencies have clear guidelines for campaign activity, when it comes to broader social media, the goalposts are less clearly set.
Ben Carter, a digital consultant at Evolv Digital, says it is important not to say anything on Twitter that you wouldn't say to a friend or colleague. 'The key is to look at Twitter as an opportunity to share information with a targeted audience. If you shout at them, they won't listen,' he adds.
Furniture brand Habitat, for example, committed a Twitter faux pas that was a far more public meltdown than Gillette's PR slip-up.
The furniture retailer used hash-tags, or popular Twitter search terms, at the beginning of its tweets to gain coverage through topics that had nothing to do with furniture. These included Iran's controversial presidential election in June, the TV show True Blood and Apple.
At the time, the retailer attributed the mistake to an intern, and certainly one of the biggest issues facing the industry is a lack of expertise in social media.
A sharp learning curve
Put simply, as a fledgling medium it is only natural that brands and agencies are experiencing some hiccups. While agencies lament the fact that brands are using inexperienced interns to staff their Twitter feeds, marketers are frustrated by the shortage of good case studies and solid results. Privately, some marketers concede that there is a skills shortage in the sector, with PR, digital and creative agencies competing with brands to appoint dedicated social media directors.
Of course, guidelines can go too far, and over-regulation may kill the message. Imagine if blogger Adland Suit couldn't swear anymore?
Alex Myers, director at integrated agency Manifest London, says that while it's a constant struggle to increase the speed of sign off, agreeing solid guidelines for social media in advance allows brands to benefit from the immediacy of the medium.
However, as King warns: 'Once you've tweeted out something, it's out there forever. Before you start tweeting your little customer-centric heart out, be sure you have the blessing of your manager or director.'
Brands are learning the hard way that social media is an unforgiving medium and, inevitably, there will be more problems ahead. Ultimately, the brands that learn from their mistakes will reap the rewards.