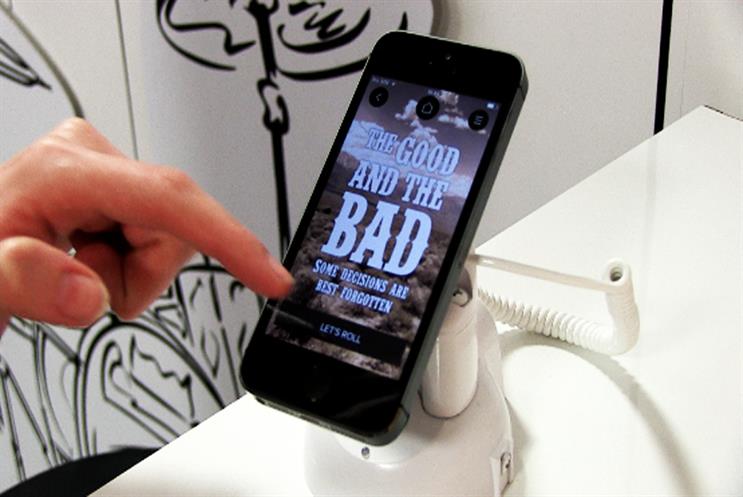 Branches in Shoreditch and Moorgate were transformed with black and white pop-up designs looking like life-sized, pop-up comic pages. Signs describing scenarios such as 'Alex woke up wanting a gothic mansionette,' and 'Priya's mind is on her big day,' highlights how customers concentrate on the end goal enabled by a financial product, rather than the process of obtaining and managing it.
Philip Northey, managing director, branch & private banking, London & South East at NatWest, said, "We want to engage with our customers in a very different way. We want to understand our customers and help them to plan their lives around their money better."
NatWest has developed a series of apps in the hope of helping customers to manage their financial needs and assist in achieving them in an accessible and interactive way. Upon entering the store, customers are encouraged to stop and try them out.
"We have developed some apps that we wanted to use in a live situation using an installation so that we can engage with [the customer] in conversation and gather their feedback before we go live with those apps so that we get it absolutely right."
Bold Rocket, the 'people technology' company, worked with Natwest on the campaign.
Sarah Mayall, Natwest's head of channel marketing, explained: "We asked Bold Rocket to think about something quite disruptive and they came up with the idea of "Life Is A Blank Canvas'. The idea is that when you walk into a branch it is so disruptive…you start to engage with the experience."
There is an offering of three apps; one for day-to-day money management, another focusing on helping users to move home, and a third called 'Spendorama' which looks more like a game, and will jauntily declare that 'It's been a wild month!'
Mayall thinks the trial has been a success: "We have had people stopping in the street, looking at what is going on and coming inside. Really engaging with the teams who are trying to explain what these apps are for…there has been absolutely fantastic feedback."
According to Northey, the idea behind the 'blank canvas' theme is that it urges the customer to 'colour in' their own banking experience: "It's not for us to prescribe what is the right way to manage money, but for them to think about what will occur."
"We're renewing all of our branch design and we need to make sure that we can balance between really great face-to-face service, and bring digital into the branch experience."
---
Recommended