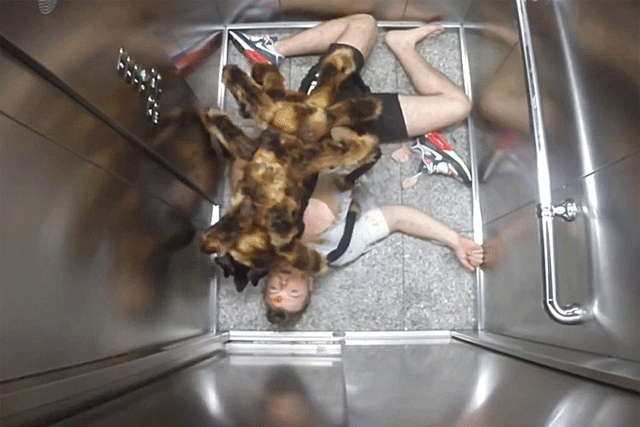 The film has attracted 114 million views and 577,747 likes. It features people who have been tricked into believing that they have encountered a deadly "spider dog".
In one scene, fake human limbs are hung from a tree. When passers-by move closer to investigate, the "spider dog" appears and chases them.
The film was made by SA Wardega, a Polish actor and director.
YouTube put together the top ten list of trending videos using data from views, likes, shares, searches, parodies and responses to find out which online videos have been the most talked about this year.
In second place is Nike's "winner stays" by Wieden & Kennedy Portland. It received 99.2 million views and 495,049 likes and features some of the biggest names in football, including Cristiano Ronaldo and Wayne Rooney.
The four-minute spot is the second instalment of Nike's "risk everything" campaign. It shows two groups of young boys playing football on a "winner stays on" basis, competing for the public playing field.
The youths start to morph into their heroes as the game becomes more competitive and the playing field turns into a large stadium.
Jeff Salomonsson took charge of copywriting, and Sezay Altinok handled the art direction. The film was directed by Ringan Ledwidge through Rattling Stick.
A film of 20 strangers kissing for the first time for Wren, the Los Angeles-based fashion brand, makes it to third place.
"First kiss" shows people behaving awkwardly before they kiss and then look happier once they finish kissing.
It was directed and produced by Tatia Pilieva, and edited by Garret Price. The film has had 94.4 million views and 440,228 likes on YouTube.
A video of the second series of The Voice of Italy showing a nun singing to No One by Alicia Keys is the fourth most talked about YouTube film.
Each of the four judges vote in her favour and the 25-year-old receives a standing ovation from the audience. It has had 66.3 million views and 263,252 likes.
Next is the "iPhone 6 Plus bend test" which shows a man attempt to bend the device as much as he can. The video shows a close-up of him bending the phone with his hands and then rotating it each time, checking if the screen is still working.
He finds a "weak point" towards the top of the device, and concludes that it will bend given great force.
It was produced by the channel Unbox Therapy, and had 59.4 million views and 211,257 likes.
Simon Cowell makes its to sixth place when he finally pushes the golden buzzer on Britain's Got Talent for two young boys singing Hope by Twist and Faith Evans.
It has been seen 57 million times, and has 400,775 likes on YouTube.
A 60-second ad "puppy love" for Budweiser's Super Bowl spot by Anomaly received 53.7 million views and 221,341 likes.
It shows a puppy in adoption centre making friends with a horse. However, when it is chosen for adoption, the horse and other horses chase the car to bring back the puppy. The last shot shows the puppy and horse playing together.
A prank freaking out passersby with a baby in a buggy left alone and crying is in the eighth spot. It is a campaign for Devil's Due, a horror film that was released in April.
"Devil baby attack" shows unassuming people walk over to check if the baby is ok, only to find a scary fake baby pop-up.
The film capturing people screaming at the sight of the "baby" has been viewed 49 million times and liked by 227,194 people.
The ninth most popular video on YouTube is a rap battle between Superman and Goku, a Japanese superhero.
It was created by Peter Shukoff and Lloyd Ahlquist, directed by Nice Peter, and written by Nice Peter, Epic Lloyd and Zach Sherwin.
The final video follows a woman walking through New York, US, over ten hours and highlights the amount of harassment she receives from men walking by.
It has been viewed 37.6 million times, and was created and directed by Rob Bliss Creative.