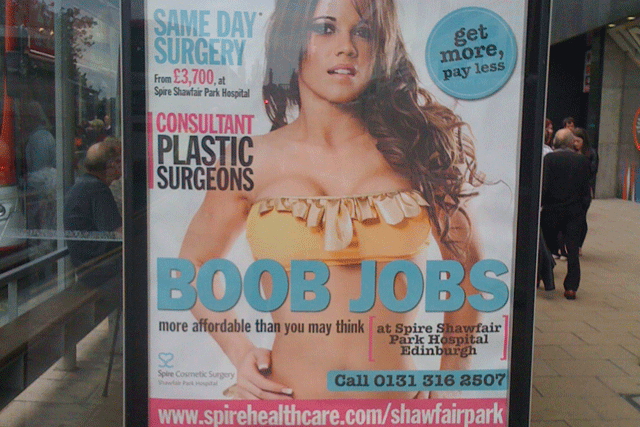 The poster, in the style of a magazine cover, advertised breast-enhancement surgery. It featured a woman in a strapless top under a headline that read "Cosmetic".
The following text stated, "Boob jobs", "same day surgery", and "consultant plastic surgeons", alongside "get more, pay less".
The ASA received 10 complaints that said the ad was irresponsible for trivialising surgery, offensive for potentially portraying women as sex objects, implying that large breasts are necessary in order to be deemed attractive, and for using an untargeted medium that could be seen by children and young girls.
Spire Healthcare said the poster was part of a test campaign for a new service at one of its hospitals. It said the ad had not been approved by its central copy clearance team and that it did not conform to its brand guidelines.
Spire Healthcare said it had already removed the poster from use, although it argued that the poster was not intended to trivialise breast-augmentation surgery. It said the brand did not promote the objectification of women, and the intended target audience was women aged 18 to 25.
The ASA agreed the ad trivialised breast-enhancement surgery by emphasising the speed of treatment and the financial transaction.
It also upheld that the ad was irresponsible for being an untargeted medium, which could be seen by children.
However, it did not agree that the ad portrayed women as sex objects.
Follow Loulla-Mae Eleftheriou-Smith on Twitter @LoullaMae_ES