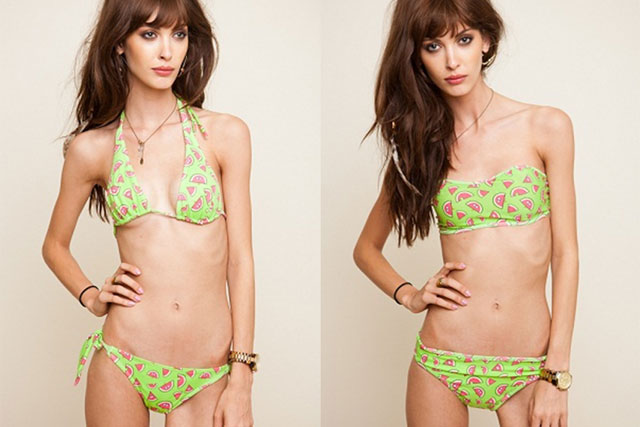 The online ad for Drop Dead received one complaint, which claimed the ad was irresponsible and offensive for choosing a model who appears anorexic and underweight.
The ASA called the ad "socially irresponsible" for using a size eight model in a bikini. The regulator said the model was visibly thin, with "highly visible" hip, rib and collar bones. She was photographed in heavy make-up and posed in a way that made her appear thinner.
In contrast, the advertising watchdog did not ban a TV ad for clothing brand H&M that featured a model in a pair of heels and a coat. The ad received nine complaints for using a "unhealthily thin" model, which could give an unrealistic idea of a desirable body image to children and younger people.
H&M said it would take the complaints into consideration for future campaigns, while the ASA said that the model, who was in clothing that "emphasised the length and slimness of her legs", did not appear too thin for her frame and did not look unhealthy.
The ASA decided the ad was unlikely to been seen as irresponsible and approved it for future viewing.
The rulings come as imagery in advertising comes increasingly in the spotlight, with the government and industry bodies in open dialogue to address the concerns.
In July this year, the ASA banned two L'Oreal cosmetics ads featuring Christy Turlington and Julia Roberts following complaints by Liberal Democrat MP Jo Swinson that they had been digitally manipulated.
Follow Loulla-Mae Eleftheriou-Smith on Twitter: @LoullaMae_ES