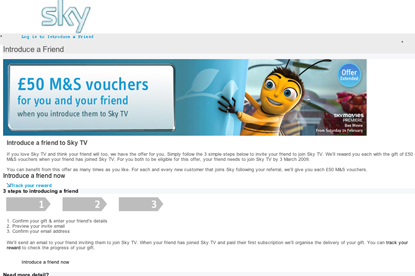 The ad outlined the promotion, which entitled Sky customers to invite as many friends as they wanted, to join Sky, in return for which they would receive vouchers for M&S within 30 days of receipt of first subscription payment from the new customer.

Fifty-five people who had not received their vouchers within the 30-day timeframe complained and challenged whether the promotion had been conducted fairly.

Sky explained that the offer was only available via their call centre or online. Further, for the offer to be successful, the customer accounts of the new and existing customer must be matched in order to identify the terms and conditions of the offer had been complied with.

Sky identified incorrect registration, ineligibility and failure within the data transfer system as reasons why customers had not received their incentive.

The ASA noted that although in cases involving eligibility this was not the direct responsibility of Sky, in cases involving internal errors and failed systems this was the responsibility of Sky.

The watchdog concluded that as customers had been unnecessarily disappointed, the sales promotion breached the CAP code. The promotion must not appear again in its current form unless Sky is able to demonstrate that the offer will be fulfilled within 30 days.