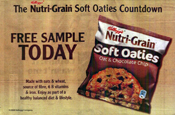 The ads, headlined Wholesome cookie goodness, stated that the cookies were made with oats & wheat, source of fibre, 6 B vitamins & iron.
Which? magazine and two members of the public complained that the ads provided misleading information regarding the nutritional benefits of the cookies.
Kellogg's said it was clear they were advertising a cookie, and believed consumers would understand that cookies are not beneficial to their health.
The nutritional information included in the ad was intended to set Soft Oaties apart as the only cookies on the market to include a source of fibre, B vitamins and iron.
The ASA noted that Soft Oaties were high in sugar, and saturated fats and concluded that the headline claim Wholesome cookie goodness was likely to mislead.
The ads must not appear again in their current form.