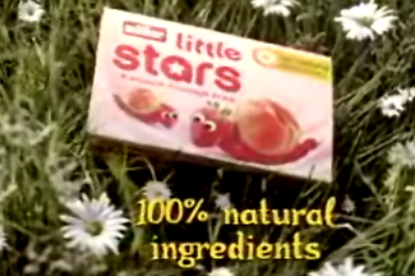 The ads, by TBWA\London, included a TV spot depicting animated scenes of young children and a woman on a beach, and featured the fromage frais with the caption: "100% natural ingredients."

A national press ad showed the six-pack of fromage frais held in a hand composed of green leaves with text stating: "New Müller Little Stars. A helping hand from Mother Nature."

The third ad, in an in-store supermarket magazine, featured the fromage frais pack alongside text that described the products as "full of goodness".

The competitor Yoplait challenged whether the ads, which claimed that the products were made up of five "100% natural" ingredients, were misleading as they believed the products were made up of at least seven ingredients.

Moreover, the claim that Mother Nature was giving a helping hand misleadingly implied that all the ingredients were natural.

Yoplait found that a number of the ingredients used in the range were not natural as stated in the ad, in particular the blackcurrant juice from concentrate in the yoghurt.

Müller argued that customers would acknowledge that as with all manufactured foods some of the ingredients would have undergone some processing.

The ASA concluded that the question over which ingredients were natural and which weren't led the ads to be misleading.

The TV ad and print ads must not appear again in their current form.