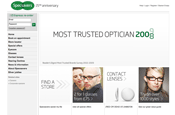 One person complained that the ad was misleading after being told that the hard contact lenses he needed were not included in the offer.


Specsavers said hard contact lenses made up only a fraction of its overall contact lens sales and therefore did not constitute a significant condition of the promotion.


The ASA noted this data, but also acknowledged that the terms and conditions of the offer made it clear that coloured lenses were excluded.


The watchdog challenged why the limitation on hard lenses was not made clear in the offer and that customers who did not know whether they needed hard or soft lenses would therefore feel misled by the promotion.


The ASA ruled that the ad must not appear again in its current form. Specsavers must ensure it uses clear literature in future similar promotions.