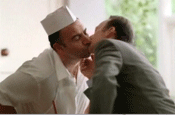 Heinz has already dropped the TV spot, for its Deli Mayo brand, after the Advertising Standards Authority revealed that it had received 215 complaints.

In a statement today, the ASA said: "Council considered that whilst some viewers may have personal objections to any portrayal of same-sex kissing, there was nothing in the content of the advertisement that would constitute a breach of the TV Advertising Code. ?

"Even if the ad had not been subject to the HFSS scheduling restrictions, the ASA still would not have investigated the ad."

Heinz's decision to drop the ad provoked outrage, with MPs tabling a Parliamentary motion calling for it to be reinstated.