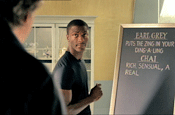 The ad had been accused of presenting a racial stereotype of a black man as sexually promiscuous.
However, the watchdog said that the ad's sexual innuendo did not rely on Fry's black co-star's ethnic origin.
Its ruling said : « We considered that...viewers generally were unlikely to believe the ads implied that black men were promiscuous or there to provide sexual services for white women. »
The two ads complained about featured Fry in conversation with an American black character, Tyrone.
In one, a woman says : " Tyrone has been filling us in, " to which Fry replies: " Oh has he ? Has he indeed ?"
In the other, Tyrone asks whether the tea can be felt in your "ding-a-ling".
Lowe said the character of Tyrone was picked as an opposite to Stephen Fry to create humour between the two characters.
They believed that race was not central or relevant to the ads because the premise was young versus old, cool versus un-cool.