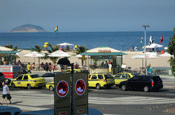 This is the first LatAm ad festival to be held in Brazil, the region's biggest and most important ad market.
As such, it has attracted a starry line-up of international speakers and jurors to the event at the city's most luxurious hotel, the Copacabana Palace.
Most of the 1,500 or so entries are from Brazil, the organisers Grupo M&M, admit, but the contest has also drawn work from Argentina, Chile, Mexico, Venezuela and Uruguay.
The 200 delegate count is at the low end of expectations, but hit target for its first year, said editorial director Regina Augusto.
Winners will be chosen from seven categories - film, press/outdoor, direct, cyber, promo, radio and design – by around 70 jurors. Press/outdoor attracted the most entries.
Latin America already has three ad festivals. The most well-established is FIAP (Festival Iberio Americano de Publicidade), held in April in Argentina and run by father and son team Pedro and Daniel Marcet.
Argentina also hosts El Ojo de Iberio America, the November festival run by the magazine Latin Spots.
The third LatAm ad fest is El Sol, previously known as San Sebastian, and held in the town of that name in Spain in May.
But Donald Gunn, founder of The Gunn Report and one of the speakers at Wave, said he saw "massive scope" for the newest entry to the LatAm festival scene.
"I think this will be the most important festival of the four by virtue of the fact that it's in Brazil," he said.
The number of entries was "not bad" and delegate numbers may reflect the fact that all the main Brazilian agencies are in Sao Paulo, not Rio.
"But," he added, "you have to have the event somewhere people want to go to, so for the long term, this is the right location."
He pointed to the seniority of speakers as a mark of difference between Wave and its competitors. Wave is also the only one not to include Spain and Portugal in its entries.
The Cannes Lions organisers are known to have talked about getting involved with Wave but felt the timing was not right, given their other new launches.
However, CEO Philip Thomas has said it may be an option for the future.