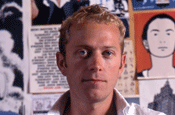 As the North America chief executive, Arnold will oversee the launch and growth strategy for the new venture, which will open this month.

He will be joined by Georgina Forster, the agency's account director on Johnson & Johnson, and Matt Ward, an account manager on Western Union, who will assume equivalent roles in the US.

Further hirings are expected shortly, including a creative director, senior planner and producer.
In Europe, Arnold's duties will be assumed by Daniele Fiandaca, the chief operating officer.

The agency is not currently seeking a European chief executive.

Profero plans to kick-start its US presence by growing its relationship with Johnson & Johnson and Western Union, which it won in March.

Daryl Arnold, the Profero group chief executive, said: "Establishing Profero in North America has been a work-in-progress for ten years while we built our business in Europe and Asia-Pacific.

To have one global team created value for our clients who are now based all over the world."

Wayne Arnold added: "We had a vision to build a global independent business and this is the last step in achieving that goal."