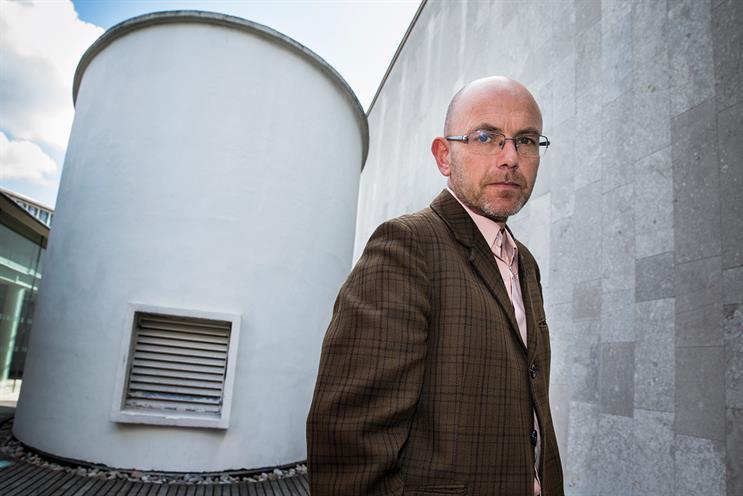 Wading through the lunchtime crowds between London's South Bank and Leicester Square, Wayne Hemingway makes his way to a meeting at the Picturehouse Central cinema.
He's a busy man and it's the only time he has to talk, so Campaign is dodging the tourists and traffic with him.
This refusal to hail a cab says a lot about him. It might have been easier to pay for the journey but, for someone who has never borrowed money to set up his businesses, this is how to travel. And what better way to take in the culture?
His thriftiness and ability to take inspiration from the world around him have served Hemingway well. He is best-known for setting up, with his wife, the Red or Dead fashion label. The pair now run their eponymous design consultancy, which recently came up with a new uniform for Transport for London staff.
Next week, Hemingway will speak at the D&AD Festival about the story behind his success, his philosophy that design should improve people's lives and how he was more interested in being in a band than being a designer when growing up.
Recycling and upcycling
The story of how Hemingway and his wife, Geraldine, began trading is well-documented. As teenagers, they set up a clothes stall in Camden market to make a bit of money, inspired by their love of punk music and making their own outfits. Little did they know then that it would become a successful fashion business turning over £25 million and employing 300 staff before selling it in 1998.
"The fashion industry is not very forgiving – it was like a treadmill," Hemingway says. "You were doing collections all the time; you never got time to sit back and reflect."
The Hemingways travelled the world buying second-hand goods – often with their kids in tow; featuring in fashion shows; and setting up shops from scratch, learning as they went.
"We ended up pretty good at designing – the interiors of our shops, all the furnishings – and marketing," he says. "We did it all ourselves, mostly from recycling and upcycling – although it wasn't called that then. It was just that thrifty attitude. We never borrowed anything."
The business might have started blooming in north London but its roots went back to Hemingway's creative surroundings growing up in Lancashire.
He was raised in a single-parent, working-class family in Morecambe, often living in council houses. Hemingway's love of music and making clothes was passed down from his mother and grandmother, who raised him. His grand-father also had a keen interest in building furniture.
When Hemingway got into punk music and wanted to look the part, he began customising his clothes, including taking a pair of scissors to his school tie to achieve that skinny look.
"At the same time, we had disco going," he says. "We'd be punks going to gigs and then to discos in brightly coloured clothes.
"That combination of hardcore and glamour had a big effect. I just spent all of my youth watching bands and going out, and buying records. I wanted to be in a band."
For Hemingway, design is something that can – and should – improve people's lives. "At Red or Dead, we always had a principle about being affordable, political and meaningful," he explains. "We changed that slightly with HemingwayDesign and came up with design being about improving things that matter in life. It's got to have political meaning, a human meaning, or be sustainable."
'Who do they think they are?'
In the early noughties, the first piece of client work for Hemingway's design agency was to help regenerate the Staiths housing development in Gateshead – what he calls its "best work without a doubt".
Staiths asked the Hemingways to work on the project after the couple criticised housebuilders such as Wim-pey in the national press. The idea behind the development was to make life better by creating more green spaces.
"We feel so good about it because we had no experience in housing," Hemingway says. "Everybody was saying: 'Who do these fashion designers think they are?'"
Hemingway has since worked on more housing projects, and added furniture design, interiors and events to his portfolio, but insists he will only take on projects that are meaningful. "When we do furniture, it's made in the UK – all the materials have to be sourced in the UK and have to be sustainable," he says.
Most recently, the team worked with TfL to redesign uniforms based on feedback from 16,000 employees. Hemingway wanted to get everyone involved in what was the first update to the outfits in a decade, and they were designed with sustainability and durability in mind.
Hemingway says he finds creative inspiration in the real world: "We're not the kind of designers who come up with a dream and an idea. We do our research. We travel, study and see things that are working. Then we'll say: 'We've seen that working – can it work in a different context?'"
It has proven to be a successful formula that the D&AD delegates themselves might be tempted to repurpose.