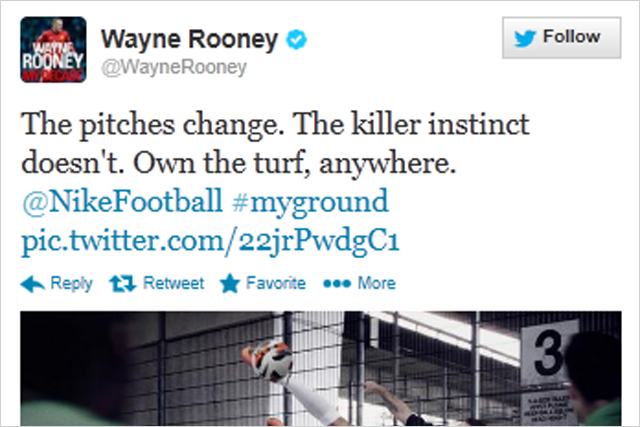 The ASA was contacted by a member of the public who received Rooney's message in their timeline as a retweet and questioned whether it was obviously identifiable as marketing communication.
The tweet, which included an image of Rooney and Nike branding, said: "The pitches change. The killer instinct doesn't. Own the turf, anywhere. @NikeFootball #myground pic.twitter.com/22jrPwdgC1".
Nike contended that the inclusion of the @NikeFootball handle was potentially clearer to consumers than the standard indicators of '#ad' or '#spon'. The sportswear giant also argued the commercial intent was clear from the wording of the tweet.
The tweet was one of a series as part of a campaign for Nike's FC247 football collection, all of which used the @NikeFootball handle.
Nike also argued the contrast between the @NikeFootball tweets, and Rooney's others during the same time, made it particularly clear which ones were marketing communications.
In its ruling the ASA noted the text was immediately followed by the @NikeFootball handle, the Nike hashtag #myground and a link to the image. It ruled the reference to Nike was prominent and "clearly linked" the tweet to the brand.
Although the ASA considered not all Twitter users would be aware of Rooney's sponsorship deal with Nike or the wider campaign, it found that because of the wording of the initial statement combined with @NikeFootball and #myground references, the tweet was obviously identifiable as a Nike marketing communication.